News Issues Order About Mailing list Support Submit Contact ©MONU


MONU's global reputation and international profile provides a unique outlet in which to promote your brand or event. To ADVERTISE in MONU is excellent value-for-money in comparison to local and consumer-oriented magazine rates. MONU's distribution strategy offers an ideal tool for companies and institutes that want to advertise and promote their brand on an international level in the greater metropolitan areas, from Rotterdam to New York, from Berlin to Sydney. Each issue of MONU has around 50.000 online readers and a printed edition of 3.000 copies. MONU offers a worldwide distribution network. A European distribution network via press and bookshops in Austria, France, Germany, Netherlands, Spain, Switzerland and the UK and overseas in Australia, New Zealand, India, Canada and the USA. MONU is distributed by Idea Books, Netherlands; IPS Pressevertrieb GmbH, Germany; Disticor Magazine Distribution Services, Canada; and Speedimpex, Australia. MONU is available at selected newsstands and bookshops worldwide. Among others: Flammarion Centre, Cedex 04, 75163 Paris, France; NAI Booksellers, Museumpark 25, 3015 CB Rotterdam, Netherlands; Art Data, 50 Cunnington Street, London W4 5HB, United Kingdom; Pro Qm, Alte Schönhauser Str.48, 10119 Berlin, Germany; RAIA Bookshop, 76 Flinders Lane, Melbourne, Australia; St. Marks Bookshop, 31 Third Avenue, New York, NY 100003, USA. An advertisement in MONU shows that your institute or company supports MONU's global dialogue on urbanism. If you are interested in our rates and policies please email to monu@b-o-a-r-d.nl and ask for the MONU Mediakit.

You can also support MONU by making a DONATION. Individual donations to MONU are welcome and necessary to continue MONU's global dialogue on urbanism. MONU relies on supporters to keep it alive. If you would like to support independent journalism, please consider making a donation. MONU is a registered magazine that can certainly send you a tax receipt for your contribution. For more information please email to donate@monu-magazine.com.


MONU's current supporters:


FONTYS' MASTER OF ARCHITECTURE // MASTER OF URBANSIM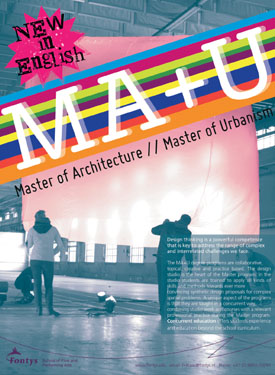 Design thinking is a powerful competence that is key to address the range of complex and interrelated challenges we face.

The MA+U degree programs are collaborative, topical, creative and practice based. The design studio is the heart of the Master program. In the studio students are trained to apply all kinds of skills and methods towards ever more convincing synthetic design proposals for complex spatial problems. A unique aspect of the programs is that they are taught in a concurrent way, combining studio work and courses with a relevant professional practice during the Master program. Concurrent education offers students experience and education beyond the school curriculum.

FONTYS
School of Fine and Performing Arts
www.fontys.edu
email: FHKaas@fontys.nl
Phone: +31 (0) 8850-70291


STRELKA INSTITUTE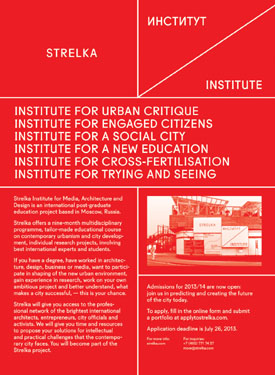 INSTITUTE FOR URBAN CRITIQUE
INSTITUTE FOR ENGAGED CITIZENS
INSTITUTE FOR A SOCIAL CITY
INSTITUTE FOR A NEW EDUCATION
INSTITUTE FOR CROSS-FERTILISATION
INSTITUTE FOR TRYING AND SEEING

Strelka Institute for Media, Architecture and Design is an international post-graduate education project based in Moscow, Russia.
Strelka offers a nine-month multidisciplinary programme, tailor-made educational course on contemporary urbanism and city development, individual research projects, involving best international experts and students.
If you have a degree, have worked in architecture, design, business or media, want to participate in shaping of the new urban environment, gain experience in research, work on your own ambitious project and better understand, what makes a city successful, - this is your chance.
Strelka will give you access to the professional network of the brightest international architects, entrepreneurs, city officials and activists. We will give you time and resources to propose your solutions for intellectual and practical challenges that the contemporary city faces. You will become part of the Strelka project.
Admissions for 2013/14 are now open: join us in predicting and creating the future of the city today.
To apply, fill in the online form and submit a portfolio at applytostrelka.com.
Application deadline is July 26, 2013.
For more info: strelka.com
For inquiries: +7 (495)771 74 37, more@strelka.com


UNIVERSITY OF LEUVEN'S MASTER OF HUMAN SETTLEMENTS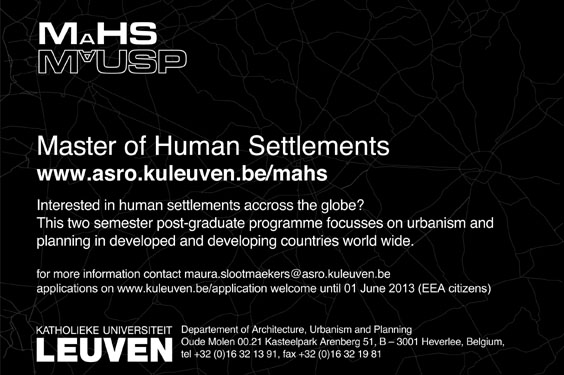 Interested in human settlements accross the globe?

This two semester post-graduate programme focusses on urbanism and planning in developed and developing countries world wide.

for more information contact maura.slootmaekers@asro.kuleuven.be
applications on www.kuleuven.be/application welcome until 01 June 2013 (EEA citizens)

Katholieke Universiteit Leuven
Departement of Architecture, Urbanism and Planning
Oude Molen 00.21, Kasteelpark Arenberg 51, B – 3001 Heverlee, Belgium,
tel +32 (0)16 32 13 91, fax +32 (0)16 32 19 81

www.asro.kuleuven.be/mahs


UNIVERSITY OF LEUVEN'S MASTER OF URBANISM AND STRATEGIC PLANNING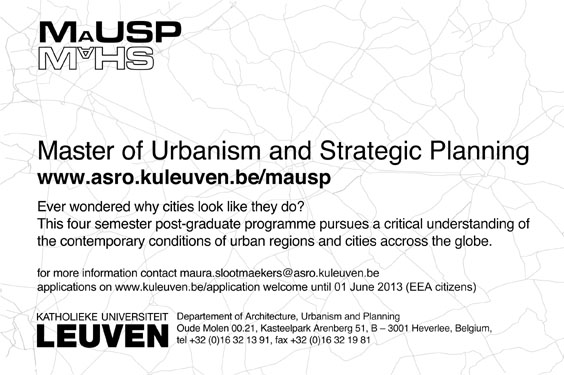 Ever wondered why cities look like they do?

This four semester post-graduate programme pursues a critical understanding of the contemporary conditions of urban regions and cities accross the globe

for more information contact maura.slootmaekers@asro.kuleuven.be
applications on www.kuleuven.be/application welcome until 01 June 2013 (EEA citizens)

Katholieke Universiteit Leuven
Departement of Architecture, Urbanism and Planning
Oude Molen 00.21, Kasteelpark Arenberg 51, B – 3001 Heverlee, Belgium,
tel +32 (0)16 32 13 91, fax +32 (0)16 32 19 81

www.asro.kuleuven.be/mausp


IAAC - MASTER PROGRAMS 2013 - 2015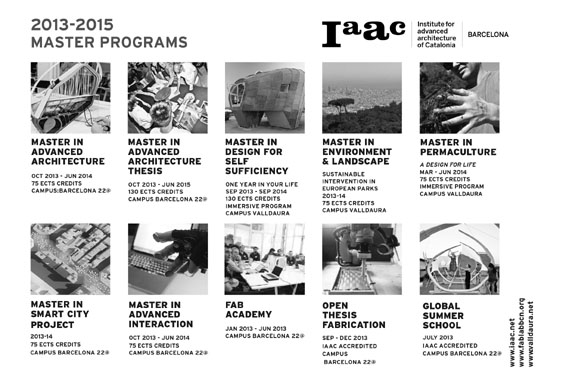 The Institute for Advanced Architecture of Catalonia is a cutting edge education and research centre dedicated to the development of an architecture capable of meeting the worldwide challenges in the construction of habitability in the early 21st century.

Based in the 22@ district of Barcelona, one of the world's capitals of architecture and urbanism, IAAC is a platform for the exchange of knowledge with faculty and students from over 35 countries around the world.

Students work simultaneously on multiple scales (city, building, manufacturing) and in different areas of expertise (ecology, energy, digital manufacturing, new technologies), pursuing their own lines of enquiry on the way to developing an integrated set of skills with which to act effectively in their home country or globally.

IAAC´s facilities include Fab Lab BCN, the most advanced digital manufacturing laboratory of any educational institution in southern Europe with laser cutters, 3D printers, milling machines and a platform for manufacturing electronics.

IAAC extends its research in Self Suffi cient Habitats at the Valldaura Self Suffi cient Labs campus, a research centre located in the Collserola Natural Park.

www.iaac.net
www.fablabbcn.org
www.valldaura.net