News Issues Order About Mailing list Support Submit Contact ©MONU


MONU's global reputation and international profile provides a unique outlet in which to promote your brand or event. To ADVERTISE in MONU is excellent value-for-money in comparison to local and consumer-oriented magazine rates. MONU's distribution strategy offers an ideal tool for companies and institutes that want to advertise and promote their brand on an international level in the greater metropolitan areas, from Rotterdam to New York, from Berlin to Sydney. Each issue of MONU has around 50.000 online readers and a printed edition of 3.000 copies. MONU offers a worldwide distribution network. A European distribution network via press and bookshops in Austria, France, Germany, Netherlands, Spain, Switzerland and the UK and overseas in Australia, New Zealand, India, Canada and the USA. MONU is distributed by Idea Books, Netherlands; W.E. Saarbach GmbH, Germany; and Disticor Magazine Distribution Services, Canada. MONU is available at selected newsstands and bookshops worldwide. Among others: Librairie LE MONITEUR, 15, rue d'Uzes, 75002 Paris, France; NAI Booksellers, Museumpark 25, 3015 CB Rotterdam, Netherlands; Art Data, 50 Cunnington Street, London W4 5HB, United Kingdom; do you read me?!, Auguststrasse 28, 10117 Berlin, Germany; Perimeter Books, 748 High Street, Thornbury, Melbourne, Australia; St. Marks Bookshop, 31 Third Avenue, New York, NY 100003, USA. An advertisement in MONU shows that your institute or company supports MONU's global dialogue on urbanism. If you are interested in our rates and policies please email to monu@b-o-a-r-d.nl and ask for the MONU Mediakit.


MONU's current supporters:


STADSLAB'S MASTER CLASS EINDHOVEN 2050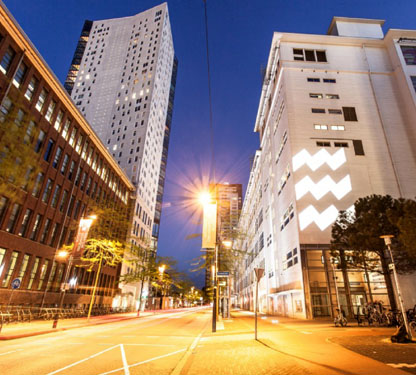 The Tilburg-based Stadslab European Urban Design Laboratory organizes an 8-day international Master Class entitled Eindhoven 2050 Master Class from May 15 - 23, 2014. Deadline for applications is March 15.

Currently, Eindhoven is the most innovative city in the world with nearly 3 times more patents per resident than the second most innovative place (Silicon Valley)! But how can future city design help to foster innovation in this modest city, in its leading companies and in its people? Cities such as Amsterdam, Paris, Barcelona, etc are considered great beautiful cities to travel to, work and live in.
How can Eindhoven, not a classically attractive city, transform its urban form to be a place that future generations desire? These are just a few of the questions that will be tackled in the Eindhoven 2050 Master Class.
Contact them to indicate your interest in participating or to request further information here.

FONTYS
School of Fine and Performing Arts
University of Applied Sciences
P.O Box 90907, 5000 GJ Tilburg Netherlands
www.fontys.edu


UNIVERSITY OF LEUVEN'S MASTER OF SCIENCE IN HUMAN SETTLEMENTS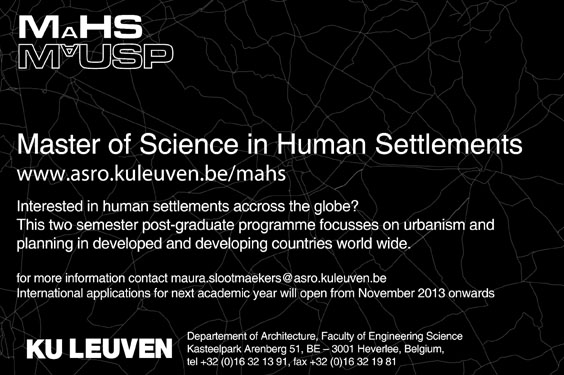 Interested in human settlements accross the globe?

This two semester post-graduate programme focusses on urbanism and planning in developed and developing countries world wide.

for more information contact maura.slootmaekers@asro.kuleuven.be
International applications for next academic year will open from November 2013 onwards

Katholieke Universiteit Leuven
Departement of Architecture, Faculty of Engineering Science
Kasteelpark Arenberg 51, BE – 3001 Heverlee, Belgium,
tel +32 (0)16 32 13 91, fax +32 (0)16 32 19 81

www.asro.kuleuven.be/mahs


UNIVERSITY OF LEUVEN'S MASTER OF SCIENCE IN URBANISM AND STRATEGIC PLANNING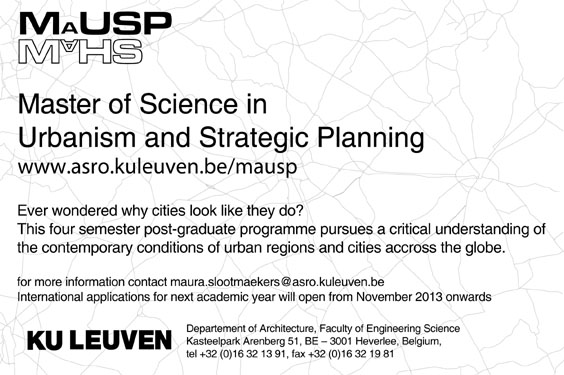 Ever wondered why cities look like they do?

This four semester post-graduate programme pursues a critical understanding of the contemporary conditions of urban regions and cities accross the globe

for more information contact maura.slootmaekers@asro.kuleuven.be
International applications for next academic year will open from November 2013 onwards

Katholieke Universiteit Leuven
Departement of Architecture, Faculty of Engineering Science
Kasteelpark Arenberg 51, BE – 3001 Heverlee, Belgium,
tel +32 (0)16 32 13 91, fax +32 (0)16 32 19 81

www.asro.kuleuven.be/mausp


FONTYS' MASTER OF ARCHITECTURE // MASTER OF URBANSIM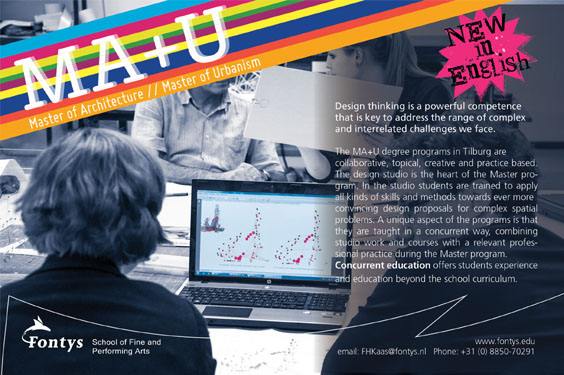 Design thinking is a powerful competence that is key to address the range of complex and interrelated challenges we face.

The MA+U degree programs in Tilburg are collaborative, topical, creative and practice based. The design studio is the heart of the Master program. In the studio students are trained to apply all kinds of skills and methods towards ever more convincing design proposals for complex spatial problems. A unique aspect of the programs is that they are taught in a concurrent way, combining studio work and courses with a relevant professional practice during the Master program. Concurrent education offers students experience and education beyond the school curriculum.

FONTYS
School of Fine and Performing Arts
www.fontys.edu
email: FHKaas@fontys.nl
Phone: +31 (0) 8850-70291


UNIVERSITY OF LIECHTENSTEIN'S MASTER (MSC) OF ARCHITECTURE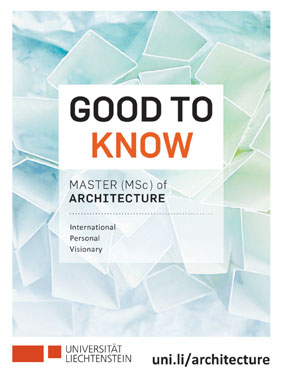 The programme's curriculum reflects on the diverse and complex challenges facing architecture as a socially responsible profession today. An understanding of and an active engagement with cultural sustainability is at the heart of its curriculum.
The different design studios give students the opportunity to engage with this topic on a variety of scales applying a multitude of design- and research methods, preparing students for the demands of the broad field of architecture and planning. The specific agendas developed in the design studios range from architectural design theory to cultural architecture, sustainable design and sustainable urban design. Together with a series of elective classes, they enable students to design their own curriculum and thus develop their personal interests in-depth.
Small classes and design studios provide a personal, creative and productive learning and research environment. Currently, students of more than 30 different nationalities create a unique cosmopolitan atmosphere on a compact campus within a stunning alpine setting. A compulsory exchange semester at one of the Institute's high-profile international Partner-Universities helps students to test their acquired knowledge in a different cultural and academic environment and offers new perspectives and opportunities.
Graduates of the Master's degree programme in Architecture are well prepared for a career in architecture, and thanks to the sound practical and academic education, promising perspectives may also arise in various research fields and academia. Upon successful completion of the programme, the University of Liechtenstein grants the academic degree of: Master of Science in Architecture ( MSc Arch )

University of Liechtenstein
Institute of Architecture and Planning
Fürst-Franz-Josef-Strasse
9490 Vaduz
Liechtenstein
Phone +423 265 11 34
Fax +423 265 11 21
architektur@uni.li

www.uni.li/architecture


INCOGNITA'S ARCHITECTURE TRIPS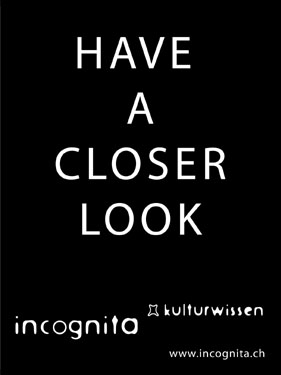 Have a closer look at the programme of the Switzerland-based "Incognita Kulturwissen" that organizes faszinating architecture trips around the world.

incognita kulturwissen
Fides-Maria Kistler und Samuel Scherrer
Herrenvogel
CH-3052 Zollikofen/Bern
+41 (0)31 558 36 96
info@incognita.ch

www.incognita.ch


STROOM DEN HAAG'S "SEE YOU IN THE HAGUE"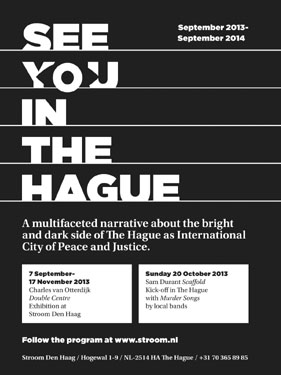 A multifaceted narrative about the bright and dark side of The Hague as International City of Peace and Justice.

"See You in The Hague", the Palestinians yell threateningly at Israeli border guards who behave badly. But 'See You in The Hague,' could also be the slogan of a The Hague's city marketing brochure, in the hope of luring tourists to the royal city by the sea. The cultural programme See You in The Hague sheds light on both the bright and dark side of a city that not only is the royal capital and seat of the Dutch government, but since 2012 also bears the motto of Peace and Justice in its coat of arms. See You in The Hague is a multifaceted narrative about a city that evokes feelings of hope and freedom throughout the entire world, but also of fear and conflict.

The city of The Hague hosts more than 130 organizations who are actively concerned with peace and justice, the majority of which are accommodated in heavily guarded buildings in the so-called International Zone, in the midst of the residential areas near Scheveningen. The zone's public space is dominated by high fences, security cameras and policemen on guard in their familiar white stations. The Hague invests a great deal of energy in promoting itself as an international City of Peace and Justice. The complex situation of the city's public image on the one hand and its self-image on the other, of both justice and peace and conflict, of constructive contributions to world peace that sometimes have destructive consequences for harmony in the city, of operating on the world stage and switching to the local stage, of a comfortable peace and an uncomfortable security, of an open society and closed zones - is is a complexity that returns in many guises in See You in The Hague.

7 September 2013 - mid October 2014
Locations: Stroom Den Haag and various other locations in The Hague

Follow the program at www.stroom.nl

Stroom Den Haag
Hogewal 1-9
2514 HA The Hague
The Netherlands
T +31 70 3658985
F +31 70 3617962
info@stroom.nl


THE CHINESE UNIVERSITY OF HONG KONG'S MASTER OF SCIENCE IN URBAN DESIGN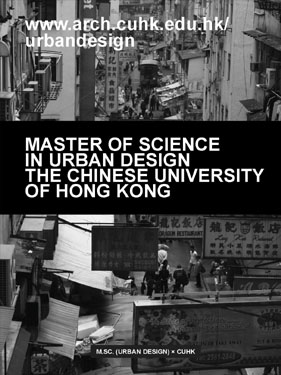 Urban design plays a key role in creating livable, sustainable and socially just cities. As one of the most dynamic and fascinating laboratories for contemporary urbanism, Hong Kong and the Pearl River Delta offer a wide range of challenges and opportunities.
Launched in 2012, the M.Sc. in Urban Design programme of the School of Architecture at the Chinese University of Hong Kong aims to prepare committed designers to engage with these challenges. Through a multidisciplary combination of design studios and focused modules, students develop design skills while integrating new knowledge about essential areas for urban design, such as community participation, ecosystems and transport networks. Courses in urban history and environmental economy provide a deeper understanding of the forces of urbanism and the impact of urban design on the environment and society. The programme's interational and Asian networks and dedicated faculty offer students an intensive and high-impact addition to their professional education.

School of Architecture
The Chinese University of Hong Kong
Room 106, AIT Building
Shatin, New Territories
Hong Kong SAR, China

Programme Director:
Hendrik Tieben
Associate Professor
Room 306, AIT Building, CUHK
hktieben@cuhk.edu.hk

Programme Officer:
Aggie Cheng
Project Coordinator
Tel. +852 3943 1309
Fax. +852 3942 09827
architecture@cuhk.edu.hk

www.arch.cuhk.edu.hk/urbandesign