News Issues Interviews Order About Follow Support Submit Contact ©MONU


MONU's global reputation and international profile provides a unique outlet in which to promote your institute, brand or event. To advertise in MONU is excellent value-for-money in comparison to local and consumer-oriented magazine rates. MONU's distribution strategy offers an ideal tool for institutes and companies that want to advertise and promote their brand on an international level, from Rotterdam to New York, from Berlin to Sydney.

Each issue of MONU has around 60.000 online readers and a printed edition of 3.000 copies. MONU offers a worldwide distribution network. A European distribution network via press and bookshops in Austria, France, Germany, Netherlands, Spain, Switzerland and the UK and overseas in Australia, New Zealand, India, Canada and the USA. MONU is distributed by Idea Books, Netherlands; Bruil & van de Staaij, Netherlands; and Disticor Magazine Distribution Services, Canada. MONU is available at selected newsstands and bookshops worldwide. Among others: Librairie LE MONITEUR, 15, rue d'Uzes, 75002 Paris, France; NAI Booksellers, Museumpark 25, 3015 CB Rotterdam, Netherlands; Art Data, 50 Cunnington Street, London W4 5HB, United Kingdom; do you read me?!, Auguststrasse 28, 10117 Berlin, Germany; Perimeter Books, 748 High Street, Thornbury, Melbourne, Australia; St. Marks Bookshop, 31 Third Avenue, New York, NY 100003, USA. If you are interested in our rates and policies please email to info@monu-magazine.com.


MONU's current supporters are:


UNIVERSITY OF LEUVEN'S MASTER OF HUMAN SETTLEMENTS AND MASTER OF URBANISM AND STRATEGIC PLANNING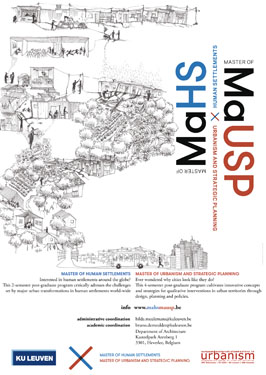 Master of Human Settlements:

Interested in human settlements accross the globe?
This 2-semester post-graduate program critically adresses the challenges set by major urban transformations in human settlements world-wide.

Master of Urbanism and Strategic Planning:

Ever wondered why cities look like they do?
This 4-semester post-graduate program cultivates innovative concepts and strategies for qualitative interventions in urban territories through design, planning and policies.

Info: www.mahsmausp.be

Administrative coordination: hilde.meulemans@kuleuven.be
Academic coordination: bruno.demeulder@kuleuven.be

University of Leuven
Department of Architecture
Kasteelpark Arenberg 1
3001 Heverlee, Belgium


STADSLAB'S MASTERCLASSES: "DARLING INTER CULTURAL SPACE" AND "SHENZHEN URBAN VILLAGES"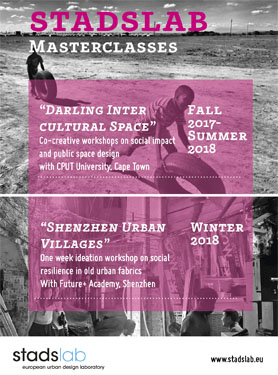 Fall 2017- Summer 2018: "Darling Inter Cultural Space"
Co-creative workshops on social impact and public space design with CPUT University, Cape Town
Winter 2018: "Shenzhen Urban Villages"
One week ideation workshop on social resilience in old urban fabrics
With Future+ Academy, Shenzhen


Please use application form on their website www.stadslab.eu

Stadslab European Urban Design Laboratory
Fontys School of Fine and Performing Arts
P.O. Box 90907, 5000 GJ Tilburg
The Netherlands
T +31 8850 870 291, +31 8850 875380
info@stadslab.eu
www.stadslab.eu


ROTTERDAM'S HET NIEUWE INSTITUUT: EXHIBITION "THE OTHER ARCHITECT"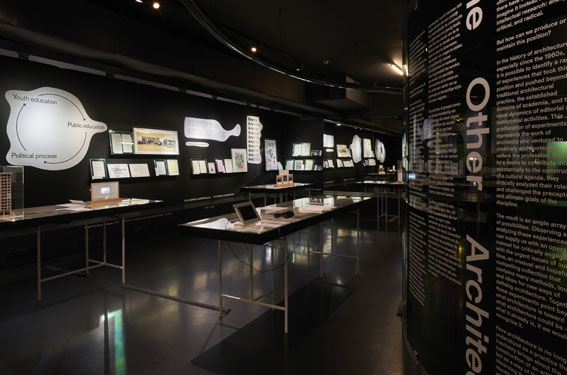 Photo by Johannes Schwartz

The exhibition The Other Architect explores the practice of various architects since the 1960s who have embraced a broader definition of their roles as designers. It showcases architecture's potential to identify the urgent issues of our time, featuring 22 case studies that illustrate how international and often multidisciplinary groups invented and adopted new methods outside of traditional design practices. Organised by the Canadian Centre for Architecture (CCA) in Montreal in Het Nieuwe Instituut, Museumpark Rotterdam.

Het Nieuwe Instituut
Museumpark 25
3015 CB Rotterdam
T +31 10 440 1200
info@hetnieuweinstituut.nl
www.hetnieuweinstituut.nl


STROOM DEN HAAG: EXHIBITION "CÉLINE CONDORELLI" - PROPOSALS FOR A QUALITATIVE SOCIETY (SPINNING)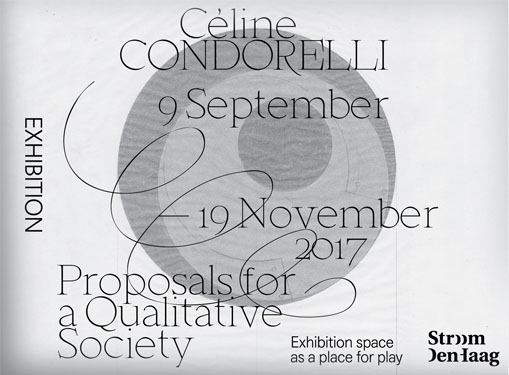 Exhibition space as a place for play

9 September - 19 November 2017

Location: Stroom Den Haag, Hogewal 1-9
Open: Wed - Sun, 12- 17 hrs
Admission: free

With Proposals for a Qualitative Society (Spinning) artist Céline Condorelli presents Stroom's exhibition space as a place for rehearsal and play. A series of carousels and spinning tops invite visitors to play and interact with them, while (historical) references of radical playground designs show what play means for the city and for society.
For Céline Condorelli intimacy with culture is extremely important, and a hugely political issue. She believes culture should not be something one looks at (silently) from a distance, it is part of everyday life. Condorelli's artworks therefore often allow for intimate contact usually excluded from cultural objects: her works can be used and touched. They have double or triple lives, make references to works by others, and fulfill different spatial functions, such as an entrance, a display structure, a background, seating, models or play objects.
Stroom Den Haag
Hogewal 1-9
2514 HA The Hague
The Netherlands
T +31 70 3658985
info@stroom.nl
www.stroom.nl


INCOGNITA'S ARCHITECTURE TRIPS: DISCOVER EASTERN EUROPEAN ARCHITECTURE AND URBANISM




Have a closer look at the programme of the Switzerland-based "Incognita Kulturwissen" that organizes faszinating architecture trips around the world.
Visit their online database or join one of their study tours.
incognita kulturwissen
Fides-Maria Kistler und Samuel Scherrer
Herrenvogel
CH-3052 Zollikofen/Bern
+41 (0)31 558 36 96
info@incognita.ch
www.incognita.ch
www.ostarchitektur.com