News Issues Order About Mailing list Support Submit Contact ©MONU


MONU's global reputation and international profile provides a unique outlet in which to promote your institute, brand or event. To advertise in MONU is excellent value-for-money in comparison to local and consumer-oriented magazine rates. MONU's distribution strategy offers an ideal tool for companies and institutes that want to advertise and promote their brand on an international level in the greater metropolitan areas, from Rotterdam to New York, from Berlin to Sydney.

Each issue of MONU has around 60.000 online readers and a printed edition of 3.000 copies. MONU offers a worldwide distribution network. A European distribution network via press and bookshops in Austria, France, Germany, Netherlands, Spain, Switzerland and the UK and overseas in Australia, New Zealand, India, Canada and the USA. MONU is distributed by Idea Books, Netherlands; Bruil & van de Staaij, Netherlands; and Disticor Magazine Distribution Services, Canada. MONU is available at selected newsstands and bookshops worldwide. Among others: Librairie LE MONITEUR, 15, rue d'Uzes, 75002 Paris, France; NAI Booksellers, Museumpark 25, 3015 CB Rotterdam, Netherlands; Art Data, 50 Cunnington Street, London W4 5HB, United Kingdom; do you read me?!, Auguststrasse 28, 10117 Berlin, Germany; Perimeter Books, 748 High Street, Thornbury, Melbourne, Australia; St. Marks Bookshop, 31 Third Avenue, New York, NY 100003, USA. If you are interested in our rates and policies please email to info@monu-magazine.com.

If you wish to support MONU's global dialogue on urbanism as an individual or as an office you can make a donation by clicking on the "Donate" button below. Any amount is welcome. Donors will be listed on the inside of MONU's back cover and as MONU's supporters below. A donation to MONU shows that you are supporting MONU's global dialogue on urbanism and independent journalism on architecture and urbanism that is produced in Rotterdam.


MONU's current supporters are:


UNIVERSITY OF LEUVEN'S MASTER OF HUMAN SETTLEMENTS AND MASTER OF URBANISM AND STRATEGIC PLANNING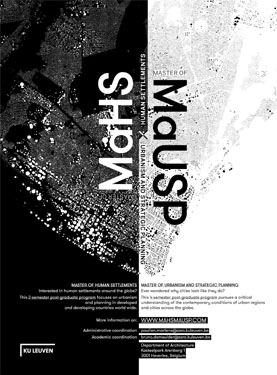 Master of Human Settlements:

Interested in human settlements accross the globe?
This 2-semester post-graduate programme focusses on urbanism and planning in developed and developing countries world wide.
Master of Urbanism and Strategic Planning:

Ever wondered why cities look like they do?
This 4-semester post-graduate programme pursues a critical understanding of the contemporary conditions of urban regions and cities across the globe.

More information on: www.asro.kuleuven.be/mahs or www.asro.kuleuven.be/mausp

Administrative coordination: paulien.martens@asro.kuleuven.be
Academic coordination: bruno.demeulder@asro.kuleuven.be

University of Leuven
Department of Architecture
Kasteelpark Arenberg 1
3001 Heverlee, Belgium


BAUHAUS UNIVERSITY WEIMAR'S INTERNATIONAL MASTER PROGRAMMES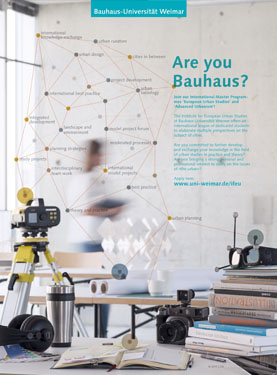 Are you Bauhaus?

Join our International Master Programmes 'European Urban Studies' and 'Advanced Urbanism'!

The Institute for European Urban Studies at Bauhaus-Universität Weimar offers an international league of dedicated students to elaborate multiple perspectives on the subject of cities.

Are you committed to further develop and exchange your knowledge in the fi eld of urban studies in practice and theory? Are you bringing a strong personal and professional interest to study on the issues of »the urban«?

Apply now:
www.uni-weimar.de/ifeu


LULEÅ UNIVERSITY OF TECHNOLOGY'S MASTER OF SCIENCE IN CLIMATE SENSITIVE URBAN PLANNING AND BUILDING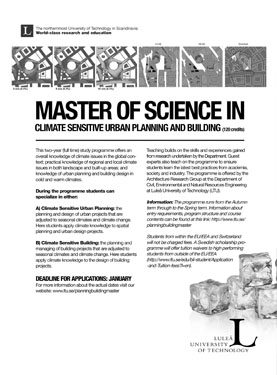 This two-year (full time) study programme (120 credits) offers an overall knowledge of climate issues in the global context; practical knowledge of regional and local climate issues in both landscape and built-up areas; and knowledge of urban planning and building design in cold and warm climates.

During the programme students can specialize in either:

A) Climate Sensitive Urban Planning: the planning and design of urban projects that are adjusted to seasonal climates and climate change. Here students apply climate knowledge to spatial planning and urban design projects.
B) Climate Sensitive Building: the planning and managing of building projects that are adjusted to seasonal climates and climate change. Here students apply climate knowledge to the design of building projects.

DEADLINE FOR APPLICATIONS: JANUARY
For more information about the actual dates visit our website: www.ltu.se/planningbuildingmaster

Teaching builds on the skills and experiences gained from research undertaken by the Department. Guest experts also teach on the programme to ensure students learn the latest best practices from academia, society and industry. The programme is offered by the Architecture Research Group at the Department of Civil, Environmental and Natural Resources Engineering at Luleå University of Technology (LTU).

Information: The programme runs from the Autumn term through to the Spring term. Information about entry requirements, program structure and course contents can be found at this link: http://www.ltu.se/planningbuildingmaster

Students from within the EU/EEA and Switzerland will not be charged fees. A Swedish scholarship programme will offer tuition waivers to high performing students from outside of the EU/EEA (http://www.ltu.se/edu/bli-student/Application-and-Tuition-fees?l=en).


FONTYS' MASTER CLASS LISBON 2016 - TOURISM GENTRIFICATION & CITY MAKING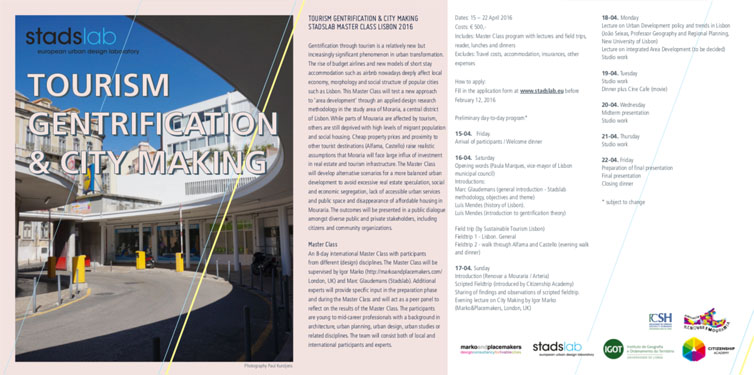 Gentrification through tourism is a relatively new but increasingly significant phenomenon in urban transformation. The rise of budget airlines and new models of short stay accommodation such as airbnb nowadays deeply affect local economy, morphology and social structure of popular cities such as Lisbon. This Master Class will test a new approach to 'area development' through an applied design research methodology in the study area of Moraria, a central district of Lisbon. While parts of Moraria are affected by tourism, others are still deprived with high levels of migrant population and social housing. Cheap property prices and proximity to other tourist destinations (Alfama, Castello) raise realistic assumptions that Moraria will face large influx of investment in real estate and tourism infrastructure. The Master Class will develop alternative scenarios for a more balanced urban development to avoid excessive real estate speculation, social and economic segregation, lack of accessible urban services and public space and disappearance of affordable housing in Moraria. The outcomes will be presented in a public dialogue amongst diverse public and private stakeholders, including citizens and community organizations.

8 day Master Class
From 15-22 April 2016 Stadslab organizes a 8 day international Master Class for design professionals. The Master Class will be supervised by Igor Marko (Markoandplacemakers/London) and invited senior design experts. Additional experts will give specific input in the preparation phase and during the Master Class and will act as a peer panel to reflect on the results of the Master Class. The intended participants are young to mid-career professionals with a background in architecture, urban design and urban planning.

Application
If you are interested please fill in the application form here and send your CV and motivation letter before February 12.

www.fontys.edu/architecture
www.fontys.edu/urbanism

www.fontys.edu
FHKmau@fontys.nl
info@stadslab.eu
Phone +31 8850-70291


UNIVERSITY OF LIECHTENSTEIN'S MASTER (MSC) OF ARCHITECTURE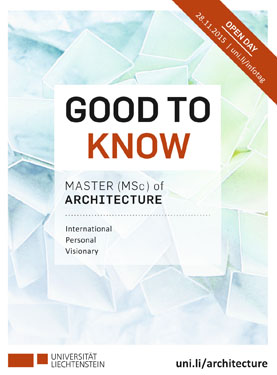 The programme's curriculum reflects on the diverse and complex challenges facing architecture as a socially responsible profession today. An understanding of and an active engagement with cultural sustainability is at the heart of its curriculum.
Open Day: 28.11.2015 uni.li/infotag

The different design studios give students the opportunity to engage with this topic on a variety of scales applying a multitude of design- and research methods, preparing students for the demands of the broad field of architecture and planning. The specific agendas developed in the design studios range from architectural design theory to cultural architecture, sustainable design and sustainable urban design. Together with a series of elective classes, they enable students to design their own curriculum and thus develop their personal interests in-depth.
Small classes and design studios provide a personal, creative and productive learning and research environment. Currently, students of more than 30 different nationalities create a unique cosmopolitan atmosphere on a compact campus within a stunning alpine setting. A compulsory exchange semester at one of the Institute's high-profile international Partner-Universities helps students to test their acquired knowledge in a different cultural and academic environment and offers new perspectives and opportunities.
Graduates of the Master's degree programme in Architecture are well prepared for a career in architecture, and thanks to the sound practical and academic education, promising perspectives may also arise in various research fields and academia. Upon successful completion of the programme, the University of Liechtenstein grants the academic degree of: Master of Science in Architecture ( MSc Arch )

University of Liechtenstein
Institute of Architecture and Planning
Fürst-Franz-Josef-Strasse
9490 Vaduz
Liechtenstein
Phone +423 265 11 34
Fax +423 265 11 21
architektur@uni.li

www.uni.li/architecture


ERASMUS UNIVERSITY ROTTERDAM'S INSTITUTE OF URBAN MANAGEMENT (IHS)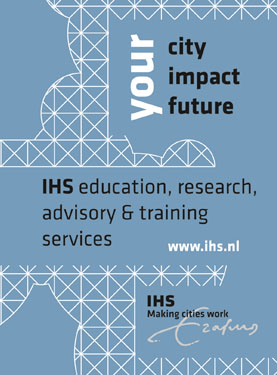 YOUR CITY
YOUR IMPACT
YOUR FUTURE

IHS education, research, advisory and training services

The Institute for Housing and Urban Development Studies (IHS) is an international centre of excellence of the School of Economics (ESE) and the Faculty of Social Sciences (FSS) of the Erasmus University Rotterdam, The Netherlands, operating on a global scale by offering post-graduate education, training, advisory services and applied research.
Today more people live in cities than ever before. Our urban future confronts us with great innovations and challenges. Cities need urban professionals who can understand, face and manage these developments to create urban futures that improve the quality of life in cities. IHS trains and advises these professionals on a global scale through its integrated approach in education, advisory services and research that offers practise and theory on urban management and development.

IHS: MAKING CITIES WORK

Visitors address:
Burgemeester Oudlaan 50
Building T, 14th floor
3062 PA Rotterdam
The Netherlands
Mailing address:
P.O. Box 1935
3000 BX Rotterdam
The Netherlands
Phone: + 31 10 408 9825
Fax: + 31 10 408 9826
admission@ihs.nl