News Issues Order About Mailing list Support Submit Contact ©MONU


19-10-15 // NEW ISSUE: MONU #23 - PARTICIPATORY URBANISM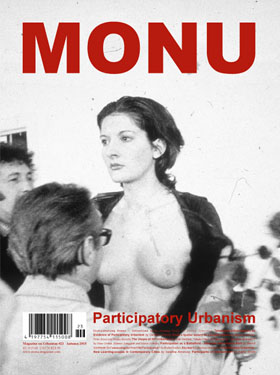 Order a copy of MONU #23 here.

(browse the entire issue #23 on Youtube)

Distributing Power - Interview with Jeremy Till by Bernd Upmeyer; Temporary Urban Spaces as Evidence of Participatory Urbanism by Carolyn Sponza; Towards a New Urbanism - Emergent Strategies by Gonzalo J López; Learning from Advocacy Planning by Verena Lenna; From a Spatial Society to a Spatial Culture by Moana Heussler, Peter Jenni and Stefan Kurath; The Utopia of DIY Urbanism: The Case of the Holzmarkt Cooperative, Berlin by Uta Gelbke; "Make City" in Times of an "Absolute Present"? by Nina Gribat, Hannes Langguth and Mario Schulze; Participation as a Battlefield - Interview with Damon Rich by Bernd Upmeyer; Is Commoning the New/Old Participation? by Stefan Gruber; Commons, Participatory Urbanism and Democratic Participation by Nele Aernouts and Thomas Decreus; Participatory Design as Tailoring by Andrea Spreafico; Rhythm 0 by Marina Abramovic; The Interactionist City by Tom Marble; The Urban Citizens' Extitutional Processes in Madrid by Esaú Acosta, Mauro Gil-Fournier, Miguel Jaenicke (SIC, VIC); Citizen Participation in Chilean Urban Micro-Strategies: I love my Neighborhood Program by Luis Eduardo González; Participatory Urbanism: New Learning-scapes in Contemporary Cities by Serafina Amoroso; Participation Time by Sheryl-Ann Simpson What's Wrong With? by Jaffer Kolb and Anya Sirota; Participants or Consumers? The 'Do It Yourself' Construction of the Twenty-First Century City by Cathy Smith

In order to avoid participation in architecture and urban design becoming merely a politically required token of democratic involvement - a kind of fake participation that does not actually engage the participants in any meaningful way - architects, planners, and designers need to commit themselves and relinquish control, as Jeremy Till claims in an interview with us entitled "Distributing Power". With this new issue of MONU on the topic of "Participatory Urbanism" we aim to find out and reassess to what extent individual citizens really can and should become proactive in the production and development of cities and in the shaping of neighbourhoods, and where the limits of such Participatory Urbanism really lie. However, giving up control and power can be tricky, as planning experts are usually sceptical of participation procedures and tend to consider such procedures an interference in their competences. Instead, they tend to reject the possibility of enrichment of urbanist practice through multilayered urbanistic concepts, as Moana Heussler, Peter Jenni, and Stefan Kurath argue in their contribution "From a Spatial Society to a Spatial Culture". This kind of disbelief, according to Damon Rich, has spawned legions of "public participation consultants" that offer governments in the US a "bulletproof process" that no amount of citizen disruption is able to stop, as he told us in an interview entitled "Participation as a Battlefield". A certain doubt with regard to the functioning and effectiveness of participation procedures is to a certain extent understandable, of course, as such processes easily become too complicated and impossible to manage. Bringing more people at the table certainly does not make things easier, as so many people are involved in architectural and urban projects already, even without citizens' participation. That the process might get complicated and even dangerous when people participate in projects is quite impressively demonstrated by Marina Abramovic in her art performance "Rhythm 0", in which she tests the limits of the relationship between performer and audience and tries to find out how far the public is willing to go, learning that: "if you leave it up to the audience, they might kill you." In order to not kill anybody and to organize participatory design processes in a satisfying way, Serafina Amoroso - in her piece "Participatory Urbanism: New Learning-scapes in Contemporary Cities" - points out that architects and urban designers need the knowledge of the user as expert-citizen through which the process becomes a two-way street and expansive. After all, knowledge is not just 'content' to be transmitted and learnt, but demands a deeper understanding in terms of experience and empathy. Only then can public participation in architecture and urbanism lead to scenarios in which both professionals and non-professionals alike are enabled to become active producers, working inside and in between the existing spaces of their host cities as Cathy Smith states in her article "Participants or Consumers? The 'Do It Yourself' Construction of the Twenty-First Century City". And only then projects can flourish that create a sense of social inclusion and authenticity that cannot be dismissed as little more than 'hipster economics'.

(Bernd Upmeyer, Editor-in-Chief, October 2015)

This issue is supported by University of Leuven's Master of Human Settlements and Master of Urbanism and Strategic Planning, Bauhaus University Weimar's International Master Programmes, Luleå University of Technology's Master Of Science in Climate Sensitive Urban Planning and Building, Fontys' Masterclass Lisbon 2016, University of Liechtenstein's Master (Msc) of Architecture, and Erasmus University Rotterdam's Institute of Urban Management (IHS). Find out more about MONU's supporters in Support.

(Cover Image: Rhythm 0, performance, from Marina Abramovic's contribution on page 82. Location: Studio Morra Naples, 1974, Photo: Donatelli Sbarra. ©Marina Abramovic. Image is courtesy of the Marina Abramovic Archives)


20-04-15 // MONU #22 - TRANSNATIONAL URBANISM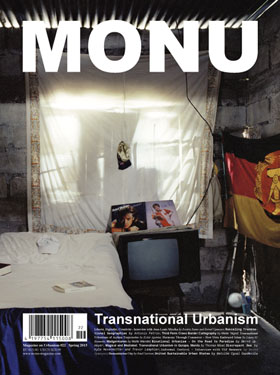 Order a copy of MONU #22 here.

(browse the entire issue #22 on Youtube)
Liberté, Digitalité, Créativité - Interview with Jean-Louis Missika by Beatriz Ramo and Bernd Upmeyer; On Home, in a World of Non-possession by Merve Bedir; Rescaling Transnational Geographies by Antonio Petrov; Third Form Cross Border Cartography - A Middle Eastern Exostructure by Maier Yagod; Transnational Urbanisms of Asylum Trajectories by Kolar Aparna; Global Towns in the New Copperbelt by Justin Hui; Harmony Through Commerce - How Yiwu Embraced Islam by Laura M. Henneke; Madgermanes by Malte Wandel; Binational Urbanism - On the Road to Paradise by Bernd Upmeyer; Zeeuws Vlaanderen, NL/BE: The National Border as Catalyst for a Transnational Periphery by Pepijn Bakker and Rutger Huiberts; Magical and Mediated: Transnational Urbanism in Quiapo, Manila by Thomas Mical; Hidden Space - Social Space - The Spatiality of Temporary Migration Between Home and Host Countries by Dalal Musaed Alsayer; Actor Map of Korea - And Spatial Scenarios of Transnational Networks by Yehre Suh; Transit Space in The Straits Megacity Region by Agatino Rizzo; Discrepant Sea by Kyle Hovenkotter and Trevor Lamphier; The Urban Pier - Exchanges of Work by Zoé Renaud; Informal Control - Interview with Ulf Hannerz by Bernd Upmeyer; New Prospects for Urban Planning by Giovanni Matteo Cudin; Humanitarian City by Paul Currion; United Sustainable Urban States by Matilde Igual Capdevila

To prepare our cities for the emergence and growth of transnational lifestyles we need to invent new urban and architectural forms that are adapted to these new ways of life. This is what the French sociologist and assistant Mayor of Paris, Jean-Louis Missika, emphasized in an exclusive interview with MONU entitled "Liberté, Digitalité, Créativité" on the topic of "Transnational Urbanism". This new issue of MONU focuses on the impact of transnational processes on cities in general and the consequences of transnational relations between individuals, groups, firms, or institutions for cities in particular. We deemed it necessary to dedicate an entire issue to the phenomenon of transnationalism in relation to the city, to architecture, and its influence on cities in spatial as well as social, political, economical, and cultural terms, as these days, more than ever before, and due to the development of technologies that have made transportation and communication infinitely more accessible and affordable, people can create and maintain multiple links, networks, and interactions across the borders of nation-states. In that regard, Missika stressed furthermore the importance of an open government: open to innovation and to innovative projects in which a lot of different people have to work together and citizens participate in planning processes. Only then can transnational urban landscapes that support transnational urban lifestyles be created as "super geographies", as Antonio Petrov puts it in his contribution "Rescaling Transnational Geographies", moving architecture beyond geographical constraints, borders or boundaries and support the flow of people and information. In such urban landscapes "imagined communities" without the need for physical or territorial contact and a communal consciousness can emerge independently - that is: characterized by small everyday gestures, acts, practices, and exchanges between individuals, as Kolar Aparna states in her piece "Transnational Urbanisms of Asylum Trajectories". Under these conditions transnational places can be created in cities where people can feel at home no matter where they come from, as Laura M. Henneke argues in her contribution "Harmony Through Commerce – How Yiwu Embraced Islam". Due to globalization urban spaces are emerging that are witnessing increasing intensity of use, mixed desires and mixed codes, cross-fertilizing urban sites with an enlarged spectrum of identities as Thomas Mical argues in his article "Magical and Mediated: Transnational Urbanism in Quiapo, Manila". Kyle Hovenkotter and Trevor Lamphier, in their contribution "Discrepant Sea", define the architectural style that appears under such transnational circumstances as characterized by duplicity, invisibility, and temporality, in contrast to the technological fetishism, transparency, and material honesty that distinguished the first international style. Nevertheless, such multiple identities and temporalities, according to Ulf Hannerz - a pioneer in urban and social anthropology whose research on culture in the age of globalization suggested as early as the 1960s the dynamic, flowing, creative, and continuously changing character of the process - will not necessarily lead to identity problems of urban spaces, since the diversity of neighbourhoods will take care of this, as he explained to us in another interview entitled "Informal Control". While trying to demystify culture, something he sees as 'processual', he considers human beings to be agents who keep culture going by doing, watching, listening, and learning. Understanding "Transnational Urbanism" as an urban culture that needs to remain in motion continuously, reinvent itself perpetually, in order to sustain itself, might lead to the fulfilment of our desires and cosmopolitan visions for a better future, and a world without borders, as Matilde Igual Capdevila dares to dream in her piece "United Sustainable Urban States".

(Bernd Upmeyer, Editor-in-Chief, April 2015)

This issue is supported by EMU - European Post-masters in Urbanism, Bauhaus University Weimar's International Master Programmes, Fontys' Master of Architecture and Master of Urbanism, University of Liechtenstein's Master (MSc) of Architecture, University of Leuven's Master of Human Settlements, Erasmus University Rotterdam's Institute of Urban Management (IHS), Incognita's Architecture Trips, and Studio for Immediate Spaces - Sandberg Instituut, Amsterdam. Find out more about MONU's supporters in Support.

(Cover Image: "Sleeping room of Nelson Ernesto Monheguete with cooker, TV and other relics from the former GDR" from Malte Wandel's contribution "Madgermanes" on page 52. Photo is ©Malte Wandel.)


20-10-14 // MONU #21 - INTERIOR URBANISM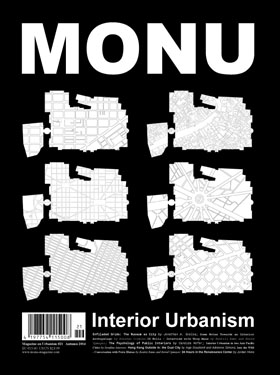 Order a copy of MONU #21 here.

(browse the entire issue #21 on Youtube)

Enfiladed Grids: The Museum as City by Jonathan A. Scelsa; Scalar Liaisons: Claiming The Public Interior by Amin Alsaden; Dark Transparency by Colleen Tuite; Some Notes Towards an Interior Archipelago by Brendan Cormier; From Domestic Housh to Consumer Mojama'a: The Social Space of Women in Kuwait by Dalal Musaed Alsayer; Kinder Egg City by Mireille Roddier and Keith Mitnick; 3D Nolli - Interview with Winy Maas by Beatriz Ramo and Bernd Upmeyer; Analogous Spaces: Notes towards a Postal Interiority by Jesse Vogler; Endless Architecture: Accidental Manifestos for the Interior by Michael Piper and James Khamsi; The Psychology of Public Interiors by Candida Höfer; Mind the Gap:Reading a City through its Subway System by Shriya Malhotra; Interior Urbanism in two Asia Pacific Cities: Spatial Intensifications in Hong Kong and Hanoi by Serafina Amoroso; The Development of the Urban Council Building OR by Christiane Lange and Susanne Trumpf; Hong Kong: A Sky-less Urbanism by Michelle Xiaohong Ling; Hong Kong Outside In: the Dual City by Inge Goudsmit and Adrienne Simons; Into the Wild- Conversation with Petra Blaisse by Beatriz Ramo and Bernd Upmeyer; Mall Futures by Judith K. De Jong; The Roof is NOT flat by David Karle; Second City: Chicago's Accessory Urbanism by Kyle Reynolds; 24 Hours in the Renaissance Center by Jordan Hicks

While our world is progressively becoming more urban everywhere, a process is on its way that seems to penetrate increasingly every part of our life and does not appear to stop at the thresholds of our buildings, but influences interior spaces, in particular public interior spaces, as much as everything else. According to Jonathan A. Scelsa this becomes evident in contemporary designs of museums as he argues in his contribution to this new issue of MONU on the topic of "Interior Urbanism", that deals with the urban scale and urban aspects of interiors and especially of public interiors. In his piece "Enfiladed Grids: The Museum as City" he shows how museums today are being conceived more and more as interior cities within cities. Museum architecture, for example, is informed and driven by urban grids. For Brendan Cormier urban life is an interior affair anyway as we spend ninety percent of our lives indoors. Thus, the city is a massive aggregation of interior environments; our homes, our workplaces, the restaurants and bars that we socialize in, our daycare services and schools, or our doctor's office. In his article entitled "Some Notes Towards an Interior Archipelago" he imagines a city life that is composed of a series of different and highly individuated interior islands. Individualization and especially personalization play an important role as well for Winy Maas when it comes to interior spaces, as he explains in an interview with us entitled "3D Nolli", where he stresses the necessity and importance of generosity, to express yourself, and to be able to influence, shape, and personalize your environment to ultimately feel welcome and at home in interiors. In reference to his "Book Mountain" project he argues that to his mind public libraries are one of the last remaining real public buildings of our generation. Candida Höfer in her contribution "The Psychology of Public Interiors" illustrates the rich and varied interiors of libraries. Winy Maas introduces the Nolli map into the discussion on urban interiors as a tool to analyze to what extent public interiors are becoming gradually more urban, although he acknowledges its limits as it is only two-dimensional and do not tell anything about heights and facades, for example. As a sort of updated and reloaded hyper-version of Nolli's map, Serafina Amoroso - in her article "Interior Urbanism in two Asia Pacific Cities: Spatial Intensifications in Hong Kong and Hanoi" - portrays the city of Hong Kong. Urban spaces, regardless of the public or private nature of their stakeholders, form a continuum of collectively used spaces that link urban routes and new interiors of social life with a particular atmospheric presence, energizing and activating them. But for Inge Goudsmit and Adrienne Simons the atmosphere of Hong Kong's indoor spaces is by far too orchestrated, too private, and too controlled, supporting social segregation and creating an uncomfortable grey area between public and private spaces, in which no room for spontaneity or chance encounters remains, as they point it out in their piece "Hong Kong Outside In: the Dual City". For Petra Blaisse too, with whom we held a conversation entitled "Into the Wild", public interior spaces can easily become too regulated to provide room for chance, surprise, improvisation, and a certain kind of wilderness. However, she thinks it is possible that such "wilderness" may be combined with very well-controlled and well-ordered organizations. Under such conditions public interior spaces can act as dramatizations of urban spaces - able to celebrate the collective psychological pleasures of cities as Jordan Hicks explains in his contribution "24 Hours in the Renaissance Center". He further states that even though you might not see a protest or a complete and proportional depiction of one city's demographics, places such as Detroit's Renaissance Center are hardly elitist pleasure palaces; a city's urbanism is often more visible indoors than on any street downtown.
(Bernd Upmeyer, Editor-in-Chief, October 2014)

This issue is supported by University of Leuven's Master of Human Settlements, University of Leuven's Master of Urbanism and Strategic Planning, University of Liechtenstein's Master (MSc) of Architecture, Inside - Master Interior Architecture, Erasmus University Rotterdam's Institute of Urban Management (IHS), and Incognita's Architecture Trips. Find out more about MONU's supporters in Support.


14-04-14 // MONU #20 - GEOGRAPHICAL URBANISM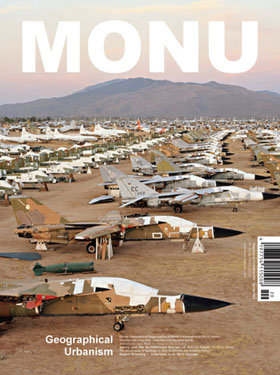 Order a copy of MONU #20 here.

(browse the entire issue #20 on Youtube)

On the Geographical Organization of World Urbanization by Nikos Katsikis; A Geographic Stroll Around the Horizon by Rania Ghosn and El Hadi Jazairy; 22º54´S 43º 10'W by Michael Oliveira; We Dig Your Land by David Morison; Working with Geography - Interview with Bernardo Secchi by Bernd Upmeyer; Underneath it All: Geo Urbanism by Jessica Bridger; Strait by Neyran Turan; Geography and the Identity of Fear: The Other Battle of Mexico City by Felipe Orensanz; Post-Human Tectonics - A Geology of Power by Roger Hubeli; Seduction and Fear by Edward Burtynsky; Valleys, Rivers, Pathways: Narrating the Urban Landscape by Thomas Kohlwein; Contested Terrain: In Search of Niagara by Kees Lokman; Agency and the Multifaceted Stories of Hybrid Places by Ryan Dewey; The Contour and the Block by Lucas Correa-Sevilla and Pablo Pérez-Ramos; Urban Fringe Landscapes on Mountains by Maider Uriarte Idiazabal; The Geography of Geology by Sean Burkholder and Bradford Watson; Geography, Urbanism's Critical Cousin by Christopher de Vries; Urbanism After Geography: The Network is Context by Clare Lyster; Beyond Branding - Interview with Bart Lootsma by Bernd Upmeyer

Contrary to the simplified linear causality of the environmentalism of the past, which posited that natural geography shapes urban patterns, it is now thought that contemporary urbanization shapes the surface of the earth. Nikos Katsikis explains this tremendous current shift in the meaning of physical geography for cities in his contribution "On the Geographical Organization of World Urbanization", putting the discussion of the 20th issue of MONU on the topic "Geographical Urbanism" in a historical context. For Bernardo Secchi this is not much of a problem as he is no fan of natural geography anyway, a position he reveals in our interview with him entitled "Working with Geography". According to him our task today is to understand, and to learn from, natural geography, but to correct and improve it and design useful projects of artificial geography. What is important to him - and which is the reason why he considers physical geography the starting point of all his ideas on planning - is that over time people transform geography, and especially topography, into topology, something that concerns social, economic, spatial, and phenomenological interactions. To what extremes natural geographies can be manufactured is shown by Edward Burtynsky in his series of photographs entitled "Seduction and Fear". However, the natural geographical features in his images are not only introduced as victims, but also as partners, protagonists, baits, sources, threats, and pleasures. How such manufacturing can result in hybrid places, with bridges and buildings to our left and rivers to our right, where rural forms intermingle with urban forms and geography penetrates the city, is described by Ryan Dewey in his piece "Agency and the Multifaceted Stories of Hybrid Places". In these hybrid locations cities and geographies converge in a story of identity and imageability, turning "Geographical Urbanism" into a sort of autobiographical tale, in which geography provides us with a kind of physical scaffolding that allows us to use land as a place to store our memories. That way, physical geography becomes more meaningful for cities than something that is merely used for its picturesque qualities or resource value as Sean Burkholder and Bradford Watson state in their article "The Geography of Geology". Because cities and landscapes are much more complex than that, and can generate - together with the inhabitants - a multiplicity of narratives as Bart Lootsma emphasizes in our interview with him entitled "Beyond Branding". Although he believes that there are aspects of, for example, the "Generic City" that are absolutely true, yet he does not find them necessarily threatening, he is convinced that no city will ever be the same because of natural geography. He even thinks that it is crucial for architects and urban designers to reconnect with geographers - not just to achieve better and smarter planning and design but, to put it more dramatically, also to save our democracies and develop them further.
(Bernd Upmeyer, Editor-in-Chief, April 2014)

(Cover: Image "AMARC#3; Tucson, Arizona, USA, 2006" from Edward Burtynsky's contribution "Seduction and Fear". Photo ©Edward Burtynsky, courtesy Nicholas Metivier Gallery, Toronto/ Flowers, London.)


14-10-13 // MONU #19 - GREATER URBANISM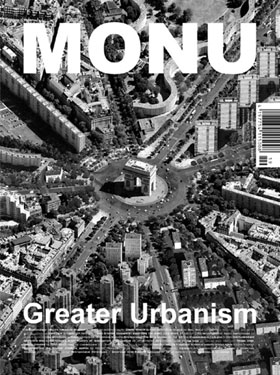 Order a copy of MONU #19 here.

(browse the entire issue #19 on Youtube)

Unlimited Greatness - Interview with Antoine Grumbach by Beatriz Ramo and Bernd Upmeyer; Greater Moscow by Anton Ivanov; From Utopia to Real World by Fabrizia Berlingieri and Manuela Triggianese; Grand Paris by Rogers Stirk Harbour + Partners; Greater Singapore: Exporting the Model City-State by Calvin Chua; Metro-Detroit Faith Territories by McLain Clutter; Out of Obscurity by Magorzata Kuciewicz and Simone De Iacobis; Metrocology: The City Unseen by Tom Marble; Fragmentation vs. Unification by OMA/ Text by Clément Blanchet; One Hundred and Ninety-Nine Miles by Rob Holmes; A Brief History of Speculative Urbanization by Christopher Marcinkoski; Life on the Edge by Hannah Hunt Moeller; Skopje, Great, Greater, Grandeur by Ognen Marina; Greater Connections by James Khamsi and Emily Goldman; Crushed Ground - The Fragmented Territory of Austerity-Stricken Athens by Panos Dragonas; Reconsidering the Greater Urbanism Agenda by Petros Phokaides, Iris Polyzos, and Loukas Triantis; Facemap by Julie Bogdanowicz; Notes Towards a Botanical Urbanism by Jennifer W. Leung; Metropolitan Strategies - Interview with Rikhard Manninen by Bernd Upmeyer; From the Kremlin to Dachas by Flavien Menu

It appears that cities of today, and especially big cities, all around the world, are all struggling with similar problems, as they all have developed huge territories - their metropolitan or "greater" areas - during the twentieth century that cannot be properly understood by anyone in terms of their form, but that now need to be recognized as something that truly exists, because it is a form that is in perpetual transformation and without limits.This is where Antoine Grumbach sees the main difficulty when it comes to "Greater Urbanism" as he explains in an interview with us entitled "Unlimited Greatness". In such unlimited spaces infrastructure plays without doubt a crucial role constructing a connected geography and reconfiguring new urban morphologies, as Fabrizia Berlingieri and Manuela Triggianese argue in their piece "From Utopia to Real World - Construction of a Unique Metropolitan Space of Europe". But a metropolitan strategy that focuses exclusively on mass transport remains incomplete, as is demonstrated by Rogers Stirk Harbour + Partners in their contribution "Grand Paris". They argue that the voices of the metropolitan region outside the centre demand representation. To what extent architecture can visually address and represent the urban public in "greater areas" is shown by McLain Clutter in his piece "Metro-Detroit Faith Territories", pointing out the unique ability of mega-churches to condense a collective domain within exurban sprawl, a morphology of urbanization that is notorious for atomization. Such peripheral areas may even become gateways to their urban centers, as is illustrated by the Office for Metropolitan Architecture (OMA) in its contribution "Fragmentation vs. Unification". But that the quality of "Greater Urbanism" is not necessarily dependent on spatial issues is clarified by Hannah Hunt Moeller in her article "Life on the Edge: Peri-Urban Borders of the Greater Urban Milieu", showing how the very lack of defined spatial boundaries enables self-determination. In that way, "Greater Urbanism" can be liberated from the perceived need to control everything, can become free to fill, for example, niches in the market and a method that is used in response to desires as James Khamsi and Emily Goldman describe it in their contribution "Greater Connections: Infrastructures of Mobility and Design Agency beyond the City". However, that such possibilities do not relieve state governments and city municipalities of their duty of establishing and creating overall and coherent visions for "greater" urban areas, thereby arresting the tendency that those areas are being shaped by a multiplicity of private actors, is pointed out by Petros Phokaides, Iris Polyzos, and Loukas Triantis in their piece "Reconsidering the Greater Urbanism Agenda: Crisis, Planning and Architecture in Metropolitan Athens". Only then will it be possible to address the biggest challenges of "Greater Urbanism" that Rikhard Manninen, the head of the Strategic Planning Division in the City Planning Department of Helsinki, whom we interviewed about "Metropolitan Strategies", discerns in the continued management of city structures during periods of significant growth - having no sprawl, while attracting a sufficient workforce to meet the demands of an ageing population, and aiming for city-regions that take climate change into account through carbon neutral developments.

(Bernd Upmeyer, Editor-in-Chief, October 2013)

(Cover image: 'The 'Étoile' of Grand Paris - The Radiant Typologies of Greater Paris' is courtesy of STAR strategies + architecture and BOARD. The image, featuring the Arc de Triomphe surrounded by the typologies of Grand Paris, is part of their research project "Construisons le Grand Paris Ensemble - Or the Story of How Paris Became Greater". This story is the first legend of the Parisian territory, in which Paris had to die to save Grand Paris. The project was realized by STAR and BOARD as part of the Scientific Committee of the AIGP - Atelier International du Grand Paris, in the framework of "Systèmes Métropolitains", presented and delivered in September 2013.)


23-04-13 // MONU #18 - COMMUNAL URBANISM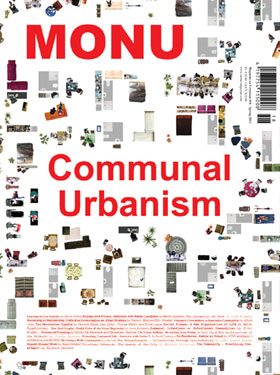 Order a copy of MONU #18 here.

(browse the entire issue #18 on Youtube)

Learning to Live Together by Martin Abbott; Ecstasy and Privacy - Interview with Rainer Langhans by Bernd Upmeyer; The Centennial RV Park by Lisa Hirmer; Ownership to Membership: Collective Consumption as Urban Strategy by Travis K. Bost and Eric Höweler; Voluntary Crowdedness in Innovative Communities by Alfredo Andia; Two Generations Together by Yasmine Abbas, Lara Jaillon, Thomas Watkin, and Onnis Luque; Soviet Dreams: A New Organisation of Life by Matas Šiupšinskas; New Deal Utopias: Model Cities of the Great Depression by Jason Reblando; Communal Intentions or Intentional Communities by Ernst Gruber; Communal Housing by Sylvain De Bleeckere and Sebastiaan Gerards; The Urban Kibbutz - Revolution from Within by Maier Yagod; The Architecture of the Kibbutz by Freddy Kahana; Promoting Communal Life - Interview with Atelier 5 by Bernd Upmeyer; Co-Residence: Habiter en Grand by STAR strategies + architecture and BOARD; Revisiting a Built Communism by Ling Fan; The Chengzhongcun - Collectivity through Individuality by John Joseph Burns; Unpaid (House) Work by Adam Holland; Voluntary Urbanism: The Agency of the City by Michaël Oliveira; The Community - Practising Commitment by Richard Sennett

How should we live together? is the central question of this 18th issue of MONU on the topic of "Communal Urbanism", focusing on contemporary communal living in cities. According to Martin Abbott's contribution "Learning to Live Together", this is a question often discussed among the housemates of Berlin's 40 year old communal "Hausprojekt Walde". Rainer Langhans, one of the early members of the legendary "Kommune 1", founded in Berlin in 1967, is convinced that in the future we will live increasingly communally. He sees a growing demand for, and interest in, communal life and shared experiences as he explains in our interview with him entitled "Privacy and Ecstasy". But in contrast to his own experiences in Kommune 1, where he experienced an uninterrupted, 24/7, spiritual communal ecstasy of love, the communal life of the future will instead be characterized by temporary communities, where people meet and share spaces, facilities and experiences occasionally, similar to his own current communal life. That way cooperation does not come at the expense of our individualism and is focused on membership rather than ownership as Travis K. Bost and Eric Höweler clarify in their piece "Ownership to Membership: Collective Consumption as Urban Strategy". Yasmine Abbas, Lara Jaillon, Thomas Watkin, and Onnis Luque explain in their article "Two Generations Together" how communal life might be an answer to present urban challenges that appeared due to increasing social fragmentation, weak or fragile economies and the burst of the housing bubble that pushed many countries to the edge of acceptable standards of living. History has shown that communal and cooperative life can lead to numerous benefits for everybody involved. For example, America met the challenges of the Great Depression in the 1930s in the spirit of cooperation as Jason Reblando illustrates in his contribution "New Deal Utopias: Model Cities of the Great Depression". However, communal urban life today has to provide a flexible platform for collaborative possibilities and should no longer aim to provide a self-sufficient framework, but a lifestyle that is stripped of the "forced socialization" of the shared forms of life of the past as Maier Yagod describes in his piece "The Urban Kibbutz - Revolution from Within". Such a platform, that could be taken up and inhabited by people as an extension of and complement to their own houses, is what the Swiss architecture collective Atelier 5 had in mind when it designed and built its famous "Siedlung Halen" in the late 1950s and early 1960s, as Heinz Müller, one of the current partners of Atelier 5, puts it in our interview with him entitled "Promoting Communal Life". STAR strategies + architecture and BOARD, in their contribution "Co-Residence: Habiter en Grand", argue that the introduction of a new form of communal life on the domestic scale of the apartment can contribute considerably to solving the current problems on the metropolitan scale, whether of an economical, social, or environmental nature. But the success of such a communal urbanism; and communal housing in particular, relies on a high level of goodwill and participation from all people and residents involved, as Adam Holland states in his article "Unpaid (House) Work". Only then might the communal experience of cooperation become a sustainable pleasure as Richard Sennett explains in his piece "The Community - Practicing Commitment".


16-10-12 // MONU #17 - NEXT URBANISM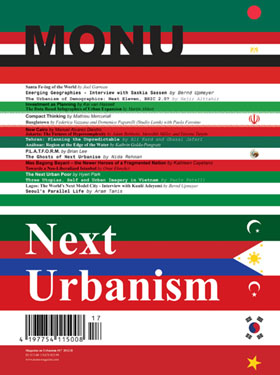 Order a copy of MONU #17 here.

(browse the entire issue #17 on Youtube)

Santa Fe-ing of the World by Joel Garreau; Emerging Geographies: From Environment to Terrorism - Interview with Saskia Sassen by Bernd Upmeyer; The Urbanism of Demographics: Next Eleven, BRIC 2.0? by Hajir Alttahir; Investment as Planning by Kai van Hasselt; The Data Based Infographics of Urban Expansion by Martin Abbott; Compact Thinking by Mathieu Mercuriali; Banglatown by Federica Vazzana and Domenico Paparelli (Studio Lunik) with Paola Favoino; New Cairo by Manuel Alvarez Diestro; Jakarta: Design Research and the Futures of Hypercomplexity by Adam Bobbette, Meredith Miller, and Etienne Turpin; Tehran: Planning the Unpredictable by Ali Fard and Ghazal Jafari; Anáhuac: Region at the Edge of the Water by Kathrin Golda-Pongratz; P.L.A.T.F.O.R.M. by Brian Lee; The Ghosts of Next Urbanism by Nida Rehman; Mas Bagong Bayani - the Newer Heroes of a Fragmented Nation by Kathleen Cayetano; Towards a Neo-Liberalized Istanbul by Onur Ekmekci; The Next Urban Poor by Hyeri Park; Three Utopias, Self and Urban Imagery in Vietnam by Paolo Patelli; Lagos: World's Next Model City - Interview with Kunlé Adeyemi by Bernd Upmeyer; Seoul's Parallel Life by Aram Tanis

This new issue of MONU is dedicated entirely to the topic of "Next Urbanism" - meaning the urbanism of the cities of the so-called "Next Eleven" or "N-11", which include eleven countries: Bangladesh, Egypt, Indonesia, Iran, Mexico, Nigeria, Pakistan, the Philippines, Turkey, South Korea, and Vietnam. These countries have been identified as growing into, along with the BRICs - Brazil, Russia, India, and China - the world's largest economies in the 21st century. Next to interviews with Saskia Sassen and with the Nigerian-born architect Kunlé Adeyemi, and a series of contributions that discuss Next Urbanism in general, we feature eleven articles that focus specifically on the cities of each of the Next Eleven countries. The issue opens with an article entitled "Santa Fe-ing the World" by Joel Garreau, who envisions the future of the Next Urbanism as being organized in dramatically different settlement patterns that feature widely dispersed new aggregations, made possible by new information technology, particularly the internet and cell phones. Although these are far-fetched futuristic scenarios, being connected appears as the key factor and an important asset that will determine the identity, character and future of the Next Eleven cities. Saskia Sassen describes something similar in our interview with her entitled "Emerging Geographies - From Environment to Terrorism". Rather than thinking in terms of "Next Eleven", a category that is -according to her - based on lazy measures and an ignorance of the actual economies and societies and geographies of those countries, she defines Next Urbanism as emerging geographies and networks of cities that connect prosperous areas of countries across the world that are better disposed to face our major global challenges than national governments. Hajir Alttahir, in her contribution "The Urbanism of Demographics: Next Eleven, BRIC 2.0?", unmasks qualifications such as BRIC or Next Eleven as mere marketing ploys, used by banks and targeted at potential investors. However, from an investor's point of view, the concept of the Next Eleven group of countries makes perfect sense as Kai van Hasselt points out in his piece "Investment as Planning" in which he tries to discover how cities and its citizens can profit from the concept and how the act of investing can be seen as a process parallel to planning or even as a form of planning itself. How important the need for investments is, for example, in urban infrastructure and in particular in communication infrastructure in the cities of the countries of the Next Eleven, is explained by Federica Vazzana and Domenico Paparelli (Studio Lunik), together with Paola Favoino, in "Banglatown", which marks the first of the eleven articles focusing specifically on the distinct qualities, identities, geographies, and vulnerabilities of the cities of one of the Next Eleven countries - in this case Bangladesh. To what extent, for example, are the areas of the city of Jakarta, despite being the rising star of Indonesia, subject to unequal exposure to environmental risks, disaster planning, and financial reorganization and management that may eventually eclipse many forms of life that constitute the very 'cityness' of Jakarta? This question is addressed by Adam Bobbette, Meredith Miller, and Etienne Turpin in their piece "Jakarta: Design Research and the Futures of Hypercomplexity". The fact that the cities of the Next Eleven countries do not always function as the engines of economic growth is shown by Nida Rehman in her contribution "The Ghosts of Next Urbanism", in which she explains how the ghosts of unfinished urban projects in Pakistan's city Lahore continue to haunt the city. Obviously, there is a need still for a better understanding of the dynamics of the Next Eleven cities to assure their successful future as Onur Ekmekci clarifies in his article "Towards a Neo-Liberalized Istanbul" in which he describes the cities of the Next Eleven, and particularly the city of Istanbul, as "worlding cities": inherently unstable, inevitably subject to intense competition, always incomplete. In the words of the urban theorist Ananya Roy: 'the art of being global'. Altogether the eleven articles that focus specifically on the cities of the different Next Eleven countries provide a broad overview of what Next Urbanism looks like today and will look like in the future. And despite their problems, it appears that if each of their economies is able to address the specific conditions needed to maintain growth, as Hajir Alttahir explains, the emerging architecture and urbanism of the Next Eleven, although more muted than BRIC in terms of development, may end up surprising us all with their innovative strength, and will act as a paradigm for a new networked, high-density, and resilient urbanism. According to Kunlé Adeyemi the cities of the Global South are already the cities of the moment: he perceives the Nigerian city of Lagos to be the global model city, as he explains in our interview with him entitled "Lagos: The World's Next Model City".

This issue is supported by the Creative Industries Fund NL.


17-04-12 // MONU #16 - NON-URBANISM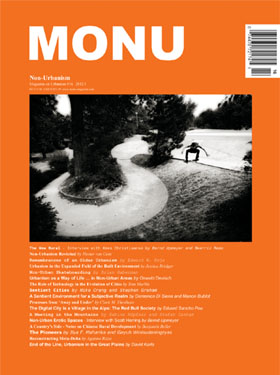 Order a copy of MONU #16 here.

(browse the entire issue #16 on Vimeo)

The New Rural: Global Agriculture, Desakotas and Freak Farms - Interview with Kees Christiaanse by Bernd Upmeyer and Beatriz Ramo Page; Non-Urbanism Revisited by Hester van Gent; Remembrances of an Older Urbanism by Edward W. Soja; Urbanism in the Expanded Field of the Built Environment by Jessica Bridger; Non-Urban Skateboarding by Brian Gaberman; Urbanism as a Way of Life … in Non-Urban Areas by Oswald Devisch; The Role of Technology in the Evolution of Cities by Tom Marble; Sentient Cities: Ambient Intelligence and the Politics of Urban Space by Mike Crang and Stephen Graham; A Sentient Environment for a Subjective Realm by Domenico Di Siena and Manon Bublot; Processes from 'Away and Under' by Clark M. Thenhaus; The Digital City is a Village in the Alps: The Red Bull Society by Eduard Sancho Pou; A Meeting in the Mountains by Sabine Höpfner and Stefan Canham; Non-Urban Erotic Spaces - Interview with Scott Herring by Bernd Upmeyer; A Country's Side - Notes on Chinese Rural Development by Benjamin Beller; The Pioneers: Mutation Agent of the Non-Urban by Ilya F. Maharika and Gayuh Winisudaningtyas; Reconstructing Meta-Doha by Agatino Rizzo; End of the Line, Urbanism in the Great Plains by David Karle

The rural as a strict counterpart to the urban appears to be a condition of the past. At least, this is what Kees Christiaanse posits in an interview with us entitled "The New Rural: Global Agriculture, Desakotas, and Freak Farms". He points out that, today, non-urban spaces interact so frequently and intensely with urbanity that you can no longer describe something as strictly rural. Therefore, we can no longer separate the city from the countryside as these are not polarized entities and each other's enemies, but rather the result of each other. Evidently, to be an urbanist today means that one must also be a regionalist as Edward W. Soja puts it in his contribution "Remembrances of an Older Urbanism". In relation to that, Oswald Devisch reminds us in his piece "Urbanism as a Way of Life…in Non-Urban Areas" that the 1930s sociologist Louis Wirth stressed that the concept of urbanism is something not only confined to large, dense and heterogeneous settlements, but can also manifest itself to varying degrees "wherever the influences of the city reach". In that sense Devisch thinks that it is time to change the urban - non-urban dichotomy into a dynamic - stagnant version that is based on social rather than spatial conditions. Obviously, new media and especially the internet play an important role in the discussion on Non-Urbanism as spaces around us are now being continually forged and reforged in informational processes as Mike Crang and Stephen Graham explain in their contribution entitled "Sentient Cities: Ambient Intelligence and the Politics of Urban Space". In their article they describe a world in which we not only think of cities, but cities also think of us, and in which the environment reflexively monitors our behavior. In his piece "Processes from 'Away and Under'", Clark M. Thenhaus envisions - because of those informational processes and in particular increased digitalization - no future widening of the gap between the urban and the non-urban, but rather that gap being bridged. This 'bridging' will occur only partially through physical manifestations, but largely through otherwise 'invisible' structures and open-source processes and networks. Although the limits of digital cities are usually not physical, but, for example, economic as Eduard Sancho Pou describes in his contribution "The Digital City is a Village in the Alps: The Red Bull Society", one might find - especially in non-urban areas - "Truman Show"-like physical manifestations such as the village of the multinational corporation "Red Bull". But non-urban spaces are also changing independently from the influence of the internet and social media, particularly in emerging market economies such as China, India or Indonesia. According to Scott Herring rural conditions have actually been changing ever since there this idea of a country and a city emerged, as he explains in another interview with us entitled "Non-Urban Erotic Spaces". In Indonesia, for example, so-called desakotas, hybrid spaces between the countryside and the city, appear as transitory spaces that lead eventually to the rise of the city of the non-urban as Ilya Fadjar Maharika and Gayuh Winisudaningtyas put it in their article "The Pioneers: Mutation Agent of the Non-Urban". In such a 'non-urban city' so-called pioneers convert agriculture into urbanized spaces with a population density double that of the countryside, into a non-urban urbanism. However, the future viability of those non-urban urban spaces remains in doubt as a typical transformation process of rural spaces - especially in Asia - means that the rural self-supporting local ecology of farming gradually vanishes as a lot of farmers go bankrupt and feudal proprietors or large multinational agro-companies take over the land as described by Kees Christianse. In order to survive, formerly independent rural communities, such as the ones in the US that David Karle mentions in his contribution "End of the Line, Urbanism in the Great Plains", must transition to self-sustaining micro-regional networks.


21-11-11 // MONU #15 - POST-IDEOLOGICAL URBANISM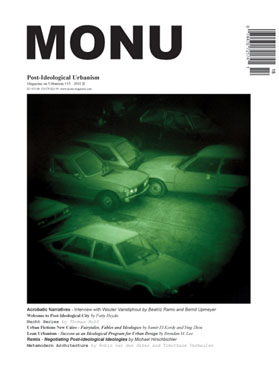 Order a copy of MONU #15 here.

(browse the entire issue #15 on YouTube)

Acrobatic Narratives - Interview with Wouter Vanstiphout by Beatriz Ramo and Bernd Upmeyer; Welcome to Post-Ideological City by Patty Heyda; Nacht Series by Thomas Ruff; Urban Fictions New Cairo - Fairytales, Fables and Ideologies by Samir El Kordy and Ying Zhou; Lean Urbanism by Brendan M. Lee; Towards a Political Urbanism by Adrià Carbonell; The Khmer Rouge and the Control of Urban Space by Fredrik Torisson; Spaces Of Negotiation by DoUC (Brendan Cormier, Christopher Pandolfi, and Simon Rabyniuk); Post(card) Ideological by Nathalie Frankowski and Cruz Garcia (WAI Architecture Think Tank); Remix - Negotiating Post-ideological Ideologies by Michael Hirschbichler; Metamodern Architecture by Robin van den Akker and Timotheus Vermeulen; Slipstreaming by Gale Fulton and Stewart Hicks; Greetings from Post-Everything by Mika Savela; O'Mighty Green by Beatriz Ramo - STAR strategies + architecture; Other Dimensions by Wes Wilson; Infra-/ Eco-/ Logi-/ -Urbanism by Geoffrey Thün, Kathy Velikov, and Colin Ripley (RVTR); Choose Your Own Urbanism Presents: The Case of the Missing Ideal By Melissa Dittmer, Jamie Witherspoon, and Noah Resnick

This new MONU issue on the topic of Post-Ideological Urbanism probably touches on one of the most fascinating and biggest issues of our time and in our culture, or what is left of it: the non-ideological - or better post-ideological - conditions of our society when it comes to cities. Today, ideology appears to have become, and to have been reduced to, something merely aesthetic, something you can buy yourself into as Wouter Vanstiphout explains in an interview with us entitled "Acrobatic Narratives". In that sense cities have become suspicious territories where hypocrisy and fakery prevail when it comes to urban ideologies and one wishes to have some kind of optical device that detects all the lies, similar to a kind of night vision infrared technology that Thomas Ruff used in his "Nacht Series" applying the same technology that was used during the Gulf War. But the usage of alibi ideologies does not seem to be just a contemporary phenomenon and the inference that, for example, the heroic Modernist architects and urban designers were able to work without succumbing to the moral ambiguities of dealing with external political or economic contingencies is probably a fallacy as Brendan M. Lee states in his contribution "Lean Urbanism". He furthermore explains that we, architects and urban designers, are sometimes envious of our Modernist forebears for their supposed ability to remain true believers in the revolutionary ideologies they proselytized, but that perhaps we have lost the self-confidence in our own ability to bluff. Fredrik Torisson even questions the necessity to follow one coherent system of ideas or an ethical set of ideals in his piece "The Khmer Rouge and the Control of Urban Space" and disqualifies urban ideology as a homogenizer that elevates one preferred ideal over the many. But according to Michael Hirschbichler and his analytical manifesto "Remix - Negotiating Post-ideological Ideologies" there cannot in fact be a post-ideological condition as there is no society imaginable that could exist beyond an ideological framework and is totally free from ideological contexts. What appears to be post-ideological today is in fact the coexistence, silent combat and mutual neglect of innumerable ideologies, neo-ideologies and pseudo-ideologies. In this pluralistic environment, no single ideology or group of ideologies is perceived to be relevant enough to become a point of reference or a single desirable truth. Robin van den Akker and Timotheus Vermeulen describe this prevailing pluralism, or coexistence, in their article "Metamodern Architecture" as metamodern, a condition in which the contemporary structure of feeling evokes a continuous oscillation between seemingly modern strategies and ostensibly postmodern tactics as well as a series of practices ultimately beyond these worn out categories. Following the authors, that kind of metamodernism can be observed in the art works of for example Djurberg, the quirky cinema of Gondry the novels of Murakami or the music of Coco Rosie and movements as diverse as reconstructivism, the new romanticism and the new sincerity. And a new sincerity is obviously needed in a world consisting of a multiplicity of choices and urban outcomes without a single consistent urban ideology as Melissa Dittmer, Jamie Witherspoon, and Noah Resnick point out in their piece "Choose Your Own Urbanism Presents: The Case of the Missing Ideal".


18-04-11 // MONU #14 - EDITING URBANISM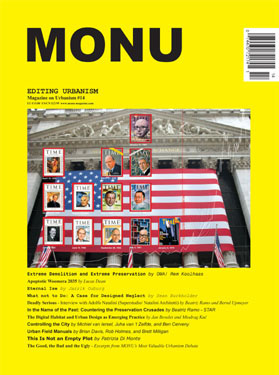 Order a copy of MONU #14 here.

(browse the entire issue #14 on YouTube)

The Naked Lunch: A Stark Honest Discussion On Renewal by UNION3; On Politics of Planning by Henk Ovink; Beyond Editing by Simone Pizzagalli; Extreme Demolition and Extreme Preservation by OMA; Apoptotic Woomera 2035 by Lucas Dean; Eternal Ise by Jarrik Ouburg; Moveable Chair by Sara Hendren; What not to Do: A Case for Designed Neglect by Sean Burkholder; Deadly Serious - Interview with Adolfo Natalini by Beatriz Ramo and Bernd Upmeyer; In the Name of the Past by Beatriz Ramo - STAR strategies + architecture; Cultural Editors by Paul Meurs and Marinke Steenhuis; The Digital Habitat and Urban Design as Emerging Practice by Jan Bovelet and Miodrag Kuc; Between Material and Culture by Ephraim Joris; Controlling the City by Michiel van Iersel, Juha van 't Zelfde, and Ben Cerveny; Layered Reality by Gijs Hoofs and Michiel Daalmans; Urban Field Manuals by Brian Davis, Rob Holmes, and Brett Milligan; This Is Not an Empty Plot by Patrizia Di Monte; The Good, the Bad and the Ugly - Excerpts from MONU's Most Valuable Urbanism Debate

Despite the current urgency to deal with the enormous potential of the already existing urban material as Urban Editors, there seems still to be an enormous lack of interest in topics such as urban and architectural restoration, preservation, renovation, redevelopment, renewal or adaptive reuse of old structures among architects and urban designers. But ignorance in this matter can only be dismissed as socially irresponsible and economically and culturally unacceptable. But what might be the reason for the prevailing ignorance? Who is to blame? Why is Urban Editing considered to be so utterly unattractive? Felix Madrazo, one of the members of the UNION3 collective, blames the media and in particular architecture publications, as he points out in UNION3's discussion of urban renewal entitled "The Naked Lunch: A Stark Honest Discussion on Renewal". He states that a prestigious architectural magazine such as the Spanish El Croquis would never publish an architect who has been practicing renewal for the last twenty years. In OMA's contribution "Extreme Demolition and Extreme Preservation" Rem Koolhaas holds the arrogance of the modernists responsible for making the preservationist of today look like a futile and irrelevant figure. He furthermore claims that preservation necessitates the development of a theory of its opposite: not what to keep, but what to give up, what to erase and what to abandon - and proposes a system of phased demolition. To a certain extent this is what Lucas Dean recommends in his piece "Apoptotic Woomera 2035" for a small town in South Australia, in which he suggests a programmed urban death that ensures that the urban fabric can constantly undergo a process of rejuvenation. The concept is an analogy to the biochemical process of apoptosis, which is organized cell death that our bodies undergo on a daily basis, killing fifty to seventy million cells, enabling the body to rejuvenate and ensure longevity. Obviously terms such as death and rejuvenation are crucial notions when it comes to Editing Urbanism. In his article "Eternal Ise" Jarrik Ouburg sees destruction as a natural part of preservation. He advises to look east and learn from the way how in Japan important shrines have been rebuild every twenty years for more than ten centuries. But accepting death and decay in buildings is one thing, when it comes to our own death, things get much more complicated. For that reason Adolfo Natalini, one of the founders of the legendary 60ies architecture firm Superstudio, does not like physical changes in cities, because they remind us that we are moving closer and closer towards death, as he explains in an interview with us entitled "Deadly Serious". He likes to be surrounded by things that remain the same as they give us the impression of eternity and he sees architecture as the most powerful medium of this form of hope. To solve the paradoxical situation that cities should on the one hand remain the same, keeping and maintaining all their existing buildings, yet on the other able to change, Beatriz Ramo / STAR suggests in "In the Name of the Past: Countering the Preservation Crusades" to establish Virtual World Heritage Sites as a new category for UNESCO. Virtual preservation enables cities to survive for eternity in the virtual, yet remain living and changing organisms in the real world. Released from the fear of death, Editing Urbanism can become a vital, active and experimental practice, in which the concept of sample and the remix gain importance as a cultural technique as Jan Bovelet and Miodrag Kuc describe in their contribution "The Digital Habitat and Urban Design as Emerging Practice". Just as remixes of songs are alternative versions of recorded songs, made from original versions, remixes of cities can be alternative versions of the original cities. Especially with the help of hand-held devices, mobile and digital online applications, citizens will be able to alternate and control cities as Michiel van Iersel, Juha van't Zelfde, and Ben Cerveny explain in their article "Controlling the City". To edit cities successfully, Brian Davis, Rob Holmes, and Brett Milligan even propose to develop "Urban Field Manuals", which show how to change or maintain your city just as automotive maintenance manuals teach you how to repair or maintain your car. Such Urban Field Manuals allow you for example to learn how, as a non-profit landlord, to approach buildings that are awaiting demolition permissions for a new construction on old properties, and to format micro-contracts that make unoccupied buildings available to other non-profits at the costs of utilities alone. But one of the most successful strategies for such reuse of unoccupied spaces in cities has probably been developed by Patrizia Di Monte recently. In her contribution "This Is Not an Empty Plot", she shows how she created an employment plan, in which sixty one long-term unemployed workers cleaned initially empty plots of the historic district of Zaragoza, which led eventually to the realization of twenty-eight projects on those lots over the last two years.

This issue is supported by the Creative Industries Fund NL.


05-10-10 // MONU #13 - MOST VALUABLE URBANISM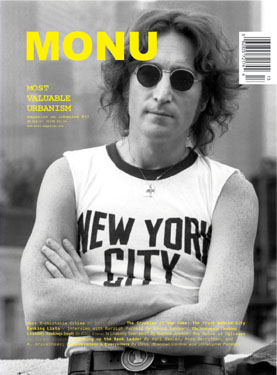 Order a copy of MONU #13 here.

(browse the entire issue #13 on YouTube)

Most T-shirtable Cities By Mika Savela; Evaluation City - Post Industrial's Most Valuable Urbanism By Melissa Dittmer and Amy Bos; Within a Day By Bobby Shen; Urban Perception of Happiness By Luciano Alfaya and Patricia Muñiz; The Urban Rhythm By Karin Aue and Jeffrey Koh; Tales of Nail Houses By Human Wu; Wonder Full By Bas van der Horst, Hans Larsson, and Michiel van Loon; The Crumbles of the Cake - Interview with Ruraigh Purcell By Bernd Upmeyer; The Systematic Thinking Livability Rankings Imply By Klaas Kresse; Is Livability Overrated? Notes on a Transactional Urbanism By Matthew Johnson; Berlin Tempelhofer Feld – A Field for the Public By Hans Frei; L.A.'s Optimistic Urbanism By John Southern; The Value of Ugliness By Jürgen Krusche; The Strategic City By Jennifer W. Leung; Climbing up the Rank Ladder By Karl Beelen, Roos Gerritsen, and A. Srivathsan; Vancouverism is Everywhere By DoUC (Brendan Cormier and Christopher Pandolfi); Vienna: Slow capital? By Stefan Gruber

When John Lennon was photographed by the legendary rock 'n' roll photographer Bob Gruen, wearing a New York City T-shirt in the year 1974, he proudly expressed his love for the city of New York. For Lennon, although born in Liverpool, New York City was without doubt the most valuable city. In that sense the value of a city can become extremely personal, subjective, and only a reflection of feelings, as Mika Savela argues in his contribution "Most T-shirtable Cities". Because of this subjective experience the value of a city is - just as the beauty of a city - in the eye of the beholder and what constitutes 'most valuable', in whatever respect, shifts back into our hands, as Bobby Shen puts it in his piece "Within a Day". People attribute a value to spaces that cannot be quantified in statistical terms, but is dependent on how 'city users' identify with the place where they live, as Luciano Alfaya and Patricia Muñiz explain in their article "Urban Perception of Happiness". And this identification is usually based on rather intangible criteria; social, cultural, and psychological dimensions; or qualities such as history, identity, memories, or lifestyle, as Human Wu illustrates in his piece "Tales of Nail Houses". Nevertheless, it would be naïve to exclude certain basic physiological needs out of the value discussion regarding cities. Those basic needs include, for example, security, housing, or health as Ruraigh Purcell, who spent several years running an analytical team producing city ranking lists, points out in an interview with us entitled "The Crumbles of the Cake - The Truth Behind City Ranking Lists". In his opinion, basic, low-level needs have to be satisfied in a city, referring to Maslow's Hierarchy of Needs, before you are in a position to move to a higher level of needs that would take in account things such as educational and cultural stimulus. Most of the evaluation criteria used by companies such as Mercer or the Economist Intelligence Unit to produce the famous city ranking lists that define the so called "most liveable cities", are based mainly on those basic needs. But what is often less known is the fact that those ranking lists are not representative, as they use as a primary source the answers of a particular socio-economic group: expatriates. Klaas Kresse detects that fact in his text "The Systematic Thinking Livability Rankings Imply" and discloses that rankings are not made for the multiplicity of urban dwellers, but for a group of wealthy, well-educated and highly skilled professionals. He furthermore points out that the livability rankings imply an urban thinking in terms of closed systems as cities start focusing on the points already scored, which makes them static and inflexible. To continue being able to change Matthew Johnson proposes in his piece "Is Livability Overrated?" that cities should be allowed to exist in a state of perpetual upgrading and renovation - always under scaffolding, in the form of a transactional urbanism. In his eyes, Houston in Texas is such a transactional city that is evolutionary and voracious, and secure in itself, despite its imperfections. Jürgen Krusche misses such imperfections in the always top-ranked city of Zurich as he clarifies in his contribution "The Value of Ugliness", where the constant striving toward clean, safe, and beautiful public spaces has banished unwelcome individuals from marginalized social groups from public life. But ever since the Economist began some ten years ago to rate cities such as Vancouver as the number one most livable city in the world, while other livability indices by Mercer and Monocle Magazine also gave it consistently high rankings, the safe and clean downtown living model of Vancouver became the planning model for cities around the world, as Brendan Cormier and Christopher Pandolfi explain in their article "Vancouverism is Everywhere". Today, top positions in urban planning councils all over the world are filled with Vancouverities. However, there seems to be a resistance towards Vancouverism and there are possibilities to top livability ranking lists without following the trends, as Stefan Gruber explains in his text "Vienna: Slow Capital?", in which he suggests that the quality of life in a city might also be determined by its capacity to resist certain movements and instead to concentrate on its unique attributes.

This issue is supported by the Creative Industries Fund NL.


11-03-10 // MONU #12 - REAL URBANISM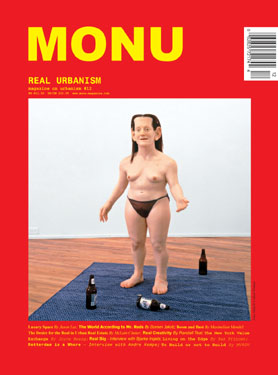 Order a copy of MONU #12 here.

(browse the entire issue #12 on YouTube)

Luxury Space By Jason Lee; The World According to Mr. Reds By Doreen Jakob; The Shelter Category By Mammoth (Stephen Becker and Rob Holmes); How the City of Broad Shoulders Bought its Growth Spurt By Karl Johann Hakken; Residential Developers and Investors in Central Europe: Boom and Bust By Maximilian Mendel; Pyongyang in a New Era By Yim Dongwoo; Casino City State By Rustam Mehta and Thomas Moran; Solidere, Inc., or Downtown Beirut By Carol Moukheiber; Real High - The Desire for the Real in Urban Real Estate By McLain Clutter; Real Creativity: A Case for Ethical Freedom in Architecture By Randall Teal; Life without Architects - Interview with Magriet Smit By Bernd Upmeyer; The New York Value Exchange By Joyce Hwang; Real Big - Interview with Bjarke Ingels By Beatriz Ramo; Magic Realism - A New Skyline for Rome By Simone De Iacobis; Business Park De Hoef Revisited 1998-2008 By Arjan Harbers (Topotronic); Brand New Landlords By Daan Roggeveen and Michiel Hulshof; Market Value(s) By STAR; Living on the Edge By Bas Princen; Why should a Developer read Aristotle By Marta Relats; Unbuilt Rotterdam By ZUS [Zones Urbaines Sensibles]; Rotterdam is a Whore - Interview with Andre Kempe By Beatriz Ramo and Bernd Upmeyer; To Build or not to Build By MVRDV

Just like the "Ideal Woman" on the cover of this issue on Real Urbanism - a sculpture by the Brooklyn based artist Tony Matelli - most of our cities are shaped by a particular set of values that does not necessarily lead to high quality urban spaces, but instead to scary, ethically unacceptable and distorted forms. As the "Ideal Woman", so "Ideal Cities" can easily end up only fulfilling the wishes and dreams of a powerful minority, but neglect the needs of most of the other people. Jason Lee, one of the contributors to this issue, that deals more with "Real Estate" Urbanism rather than with Actual or Factual Urbanism, uses this sculpture in his article "Luxury Space" to display the consequences that can occur when a financially powerful elite develops real estate projects in the city of Shanghai merely to accommodate their consumerist desires. Cities have been reduced to machines for making and spending money as Stephen Becker and Rob Holmes put it in their piece "The Shelter Category". Especially in Central European countries, where two decades ago the state-controlled economy changed into a market-economy, developers are driven by pure profit rather than by a genuine desire or even awareness of sustainable neighbourhoods and city development as Maximilian Mendel describes in his text "Residential Developers and Investors in Central Europe: Boom and Bust". But blaming only the financial elites and the real estate industry for the prevailing urbanism of mediocrity would be too easy. For successful urban planning, cities depend on private financing as Carol Moukheiber points out in her contribution "Solidere, Inc., or Downtown Beirut", where a productive collaboration between a corporate and a cooperative party led - although heavily criticised and carried out in a kind of pseudo democratic Berlusconian way - to prosperous results. In the case of Rotterdam, where the municipality actually cares very little about the city, real estate developers seem to be even more concerned about the quality of urban spaces than the city itself, as stated by Andre Kempe in an interview with us entitled "Rotterdam is a Whore". To halt the process by which the built-up form of our cities continues to be mainly driven by practical concerns such as efficiency, profit, and self-promotion, Randall Teal proposes in his piece "Real Creativity: A Case for Ethical Freedom in Architecture" that architects should become developers themselves. But how many architects would be able and interested in doing that? Magriet Smit, a Rotterdam based real estate developer, explains in the interview "Life without Architects" that she actually tries more and more to avoid working with planners and rather collaborates directly with construction companies as they share a greater understanding of their profession. But to prevent our cities from turning into monstrous "Ideal Cities", as perverted as the "Ideal Woman", all the parties involved that are shaping the cities - the developers, the municipalities and the planners - have to accept their interdependencies, and have to try to understand the different interests of each party and have to dare to navigate into unknown territory as Bjarke Ingels concludes in an interview with us entitled "Real Big".

This issue is supported by the Creative Industries Fund NL.


25-08-09 // MONU #11 - CLEAN URBANISM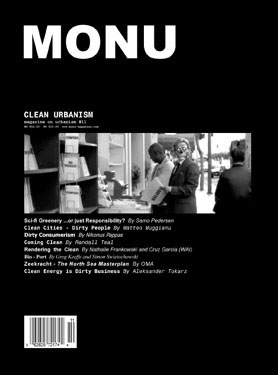 Order a copy of MONU #11here.

(browse the entire issue #11 on YouTube)
Sci-fi Greenery ...or just Responsibility? By Samo Pedersen; Clean Cities - Dirty People By Matteo Muggianu; Dirty Consumerism By Nikonus Pappas; Coming Clean By Randall Teal ; Domes over Manhattan - Interview with Gerd Hauser By Bernd Upmeyer; Rendering the Clean By Nathalie Frankowski and Cruz Garcia (WAI); The Mobile Library Unit By John Southern; Where the Grass Is Greener By Tomorrow'sThoughtsToday; Clean around the Edges By Lee Altman; Bio - Port By Greg Keeffe and Simon Swietochowski; Zeekracht - The North Sea Masterplan By OMA; Scarcity: Bipolar Urbanism in the Sonoran Desert By Felipe Correa; Regenerative Ecologies By Claudio Astudillo Barra; Clean Energy is Dirty Business By Aleksander Tokarz; Dystopic Verdure By Jacob Ross Boswell; How to Win Poetic Praise and Influence Architects By Amanda Webb; The Cooperative City By Rogier van den Berg; Mania By Bryan Norwood and the Jackson Community Design Center
Do we simply have to stop having sex to produce Clean Urbanism - i.e. an urbanism that is dedicated to minimizing both the required inputs of energy, water, and food for a city as well as its waste output of heat, air pollution as CO2, methan, and water pollution, Samo Pedersen asks in his piece "Sci-fi greenery..or just Responsibility?". In fact Randall Teal sees the growing world population frequently ignored in discussions on sustainability, as he points out in his article "Coming Clean: Owning Up to the Real Demands of a Sustainable Existence". Fewer people spend less energy, and as the gas and oil supply will come to an end sooner or later, saving energy may be a cheaper and smarter solution for cities than depending on renewable energies, as Gerd Hauser, one of the leading researchers on the implementation of the EU Directive on Energy Performance of Buildings, explains in an interview with us, entitled "Domes over Manhatten". Although sustainability has recently become a cache misère for our lack of intent, a trendy make-up hiding our incompetence, with Clean Urbanism being its apotheosis as Nathalie Frankowski and Cruz Garcia (WAI) maintain in their contribution "Rendering the Clean", energy self-sufficient cities are technically possible as Gerd Hauser states and explains using a five-point manifesto. Greg Keeffe and Simon Swietochowski support that view by introducing their "Bio-Port" project, a vision of a "Free Energy City" set in Liverpool, where the old dockyards have been transformed into bio-productive algae farms. Furthermore, the Office of Metropolitan Architecture (OMA) illustrates in its project "Zeekracht – The North Sea Masterplan" how wind farms could be clustered along an Energy Super-Ring in the North Sea, distributing national surpluses and supplying regional energy needs efficiently and profitably. On the other hand, Clean Urbanism cannot only be understood from a purely technocratic perspective, but also needs a social one as Claudio Astudillo Barra articulates in his article "Regenerative Ecologies – A Prototypical Approach to the Territory", introducing Felix Guattari's ideas of ecosophy. On such social aspects Rogier van den Berg focuses in his piece on "The Cooperative City", where a community is created that triggers individual initiative and the cooperation of its users to generate collective values. The Cooperative City requires a flexible plan with an open end that is only guided by one set of rules, described by Bryan Norwood and the Jackson Community Center as "Mania: An Emergent Sustainability of Density and Intensity", created by the disorganized, hyperactivity of an actualized system with no specified, singular goal, a bottom-up phenomenon that emerges from the individual events of architecture within the city, combined with the ideology of urbanism conceived as anti-capitalism and anti-homogenization. It is mania, and mania is clean.


06-02-09 // MONU #10 - HOLY URBANISM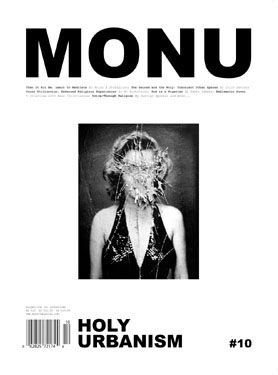 Order a copy of MONU #10 here.

(browse the entire issue #10 on YouTube)

A Mormon Megaproject by Daniel Hadley; Then It Hit Me: Learn to Meditate by Brian A Shabaglian; The Sacred and the Holy: Transient Urban Spaces by Colin Davies; Cross Utilization: Enhanced Religious Experiences by NL Architects; Strata and Sound: The Adhan as an Urban Operating Procedure by Peter Dorsey; The Sensory Experience of Sacred Space: Senso-Ji and Meiji-Jungu, Tokyo by Raymond Lucas; Peace Through Superior Horsepower by Speedism; God is a Nigerian by Emeka Udemba; Emblematic Power - Interview with Kees Christiaanse; Sacred Wire by Elliott Malkin; The Mormon Church's Infrastructure of Salvation by Jesse LeCavalier; Do not give up Hope! by Maurizio Scarciglia; [uhn-hoh-lee] Alliance: A Domain of Objects by Edward Richardson; Drive-Through Religion by Carolyn Sponza; Urban Rituals by Abha Mahajan; Sacred Beauties by Karen Crequer; Strucked by a Freak Wave by Matilde Cassani

Can the view on cities get any bigger than through religion? Probably not. But we believe that a magazine on urbanism such as MONU, that appears only twice a year, can never have a too open perspective. Although the picture in this issue is big, and the contributions are diverse and have different focuses, one thing can be found that runs through almost this entire issue on Holy Urbanism. It is the convinction that Holy Urbanism in the contemporary city does not appear, and is not created any longer, merely by religion itself, but rather by a crossbreed of religion and economy. How such Holy Urbanism can be produced is explained by Daniel Hadley, for example, through the City Creek Center in Salt Lake City that quite clearly defies the dichotomy between market and temple cities, in his article "A Mormon Megaproject". Thus, the City Creek Center is designed to be a centre of consumerism and economic production, whose purpose, nevertheless, is to ensure vitality in front of the nearby Temple Square. Sacred and commercial spaces seem increasingly to coalesce and create a kind of Foucaultian Heterotopia, an environment that is capable of juxtaposing in a single real place several spaces and several sites that are in themselves incompatible, as Colin Davies points out in his contribution "The Sacred and the Holy: Transient Urban Spaces". Peter Dorsey in his piece "Strata and Sound: The Adhan as an Urban Operating Procedure" argues that contemporary Holy Urbanism is flourishing especially at places where religion is creating a hybrid together with capitalism. As an example he mentions the Lakewood Church Central Campus in Houston, Texas that can seat more than 16.000 worshipers, adapting efficiently into a spectacle-based environment by satisfying multiple consumer appetites simultaneously. In the Nigerian city of Lagos the hybridisation processes of religion and the market have even transformed the urban space itself into a battlefield, in a free market where religion is a commodity to sell and an urban survival strategy, as Emeka Udemba concludes in his "God is a Nigerian". Within such a capitalistic realm, religious buildings follow an increasingly territorial logic that is similar to capitalistic corporations or franchises such as McDonald's or Starbucks. The Church of Jesus Christ of Latter-Day Saints, for example, standardized the design of their temples and thus created a generic network of identical buildings that are spread out - Starbucks-like - all over the planet, as Jesse LeCavalier illustrates in his article "The Mormon Church's Infrastructure of Salvation". Carolyn Sponza, in her contribution "Drive-Through-Religion", even states that in the United States, planning a church and a shopping mall always begins with the same capitalistic question – how much parking the site can accommodate. Such an attitude leads in a lot of cases to the design of big box, Ikea-like, building types that are perfectly located along a suburban highway. But religious big boxes nevertheless - though convenient and visible - force visitors to seek them out, park their cars, and walk toward their front doors. And if you don't think it's for you, you can keep driving along the highway until the next big box containing another religion grabs your attention. Such Holy Urbanism promotes religious choice and makes multi-religious spaces possible that are flexible as pieces of fashion, as empty spaces for inter-religious dialogue that incarnate the belief in a multi-faith society and allow for openness, and heterogeneity as Karen Crequer reveals in her piece "Sacred Beauties".


26-08-08 // MONU #9 - EXOTIC URBANISM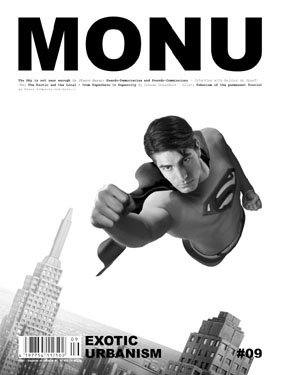 Order a copy of MONU #9 here.

(browse the entire issue #9 on YouTube)

A City under the Influence by Vesta Nele Zareh; Cities of Girl by Laurent Gutierrez and Valérie Portefaix/ Map Office; Thawing Urbanisms in the Arctic by Mason White and Lola Sheppard; Living Facades - Green Urbanism and the Politics of Urban Offsetting by Owen Hatherley; Flying Grass Carpet by Joop de Boer; The 'Great Comeback' of The Chinese to Katendrecht by Els Vervloesem; Urbanism of the permanent Tourist by Deane Simpson; Plastic Wrapped History by Hannah Epstein; Golf Courses and Cultural Conventions of Nature by Jacqueline Schlossman; The Sky is not near enough by Shumon Basar; Defining the Exotic when Identity is Lost by Yasmine El Rashidi; Nondescript Exotism inside the Urban Tissue by Anne Seghers; Pseudo-Democracies and Pseudo-Commissions - Interview with Reinier de Graaf/ OMA by Bernd Upmeyer and Beatriz Ramo; Elite Commune by Lei Liu; Re-fun by Yaowalak Baltisberger; Urbanism in a Minor Key by Gean Moreno and Ernesto Oroza; The Exotic and the Local - From Superhero to Supercity by Yehuda Greenfield - Gilat

In this issue we have taken the deliberate risk of making ourselves look ridiculous by focusing its theme on "the exotic", which is often seen as some sort of worn out, utterly out of date topic, immediately evoking images of colonialism and imperialism. But what fascinated us right from the beginning, since this topic idea of exotic urbanism popped up in our minds, is - without any irony - the opportunity to shift the perception towards global urban phenomena, into a direction that does not necessarily focus on the question how cities more and more become the same through their global battle and competition to attract more urban assets, but how they can actually become more different despite an ever - expanding exchange and an increasingly accelerating process of interaction. On that question this issue of MONU provides a magnificent collection of exuberant essays and projects. There is something very paradoxical about the exotic in an urban context. When a city like Tehran, for example, started importing western planning models around 200 years ago, it tried to distinguish itself from conventional structures but also from other cities, as Vesta Nele Zareh has illustrated in her article "A City under the Influence". This could also be interpreted as an excursion into a brashly beautiful but savage and unforgiving territory as Owen Hatherley puts it in his piece about "Green Urbanism and the Politics of Urban Offsetting". Such exotic urban elements also seemed to deliver the possibility to escape from everyday surroundings and to experience the feeling of entering another world without leaving your actual urban realm as Deane Simpson describes it in his text on the "Urbanism of the permanent Tourist". But as soon as a certain critical mass of exotic urban elements has been implemented in a city and a certain amount of time has passed, exotic elements can no longer be distinguished from other elements, and especially not from the local elements. Shumon Basar describes such a phenomenon in his contribution "The Sky is not near enough" as a certain surreal salvation, where everything slides into some sort of grey state between both poles, a kind of pseudo-local or pseudo-exotic condition, something utterly unmemorable. Reinier de Graaf, one of the partners of the Office for Metropolitan Architecture, clarifies this neither-white-nor-black-condition in the whole current political situation on the Eurasian continent in an interview with us entitled "Pseudo-Democracies and Pseudo-Commissions". The conditions of the cities of the 21st century can probably best be described with the term "pseudo" as a result of the end of a black and white thinking, which gives the stage to dualistic urban qualities. Cities become able, just as superheroes, to oscillate between two different entities, one earthly and mundane, the other heroic and exotic as part of their super-schedule as Yehuda Greenfield-Gilat investigates in his piece on "The Exotic and the Local - From the Superhero to the Supercity".


14-03-08 // MONU #8 - BORDER URBANISM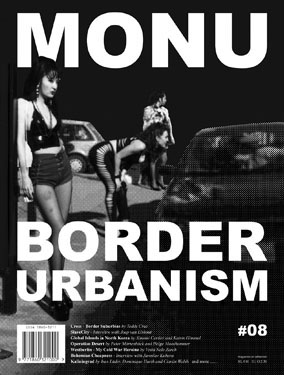 Order a copy of MONU #8 here.

(browse the entire issue #8 on YouTube)

SlaveCity - Interview with Joep van Lieshout by Bernd Upmeyer; Potential Nation States by STAR; Global Islands in North Korea by Simone Cartier and Katrin Gimmel; Operation Desert by Peter Mörtenböck and Helge Mooshammer; Kaliningrad by Ines Lüder, Dominique Hurth and Ciarán Walsh; Segregated Istanbul by Pelin Tan; Crisscrossing Lives by Horng-Chang Hsieh and Vittaya Ruangrit; A Fictional Dialogue between two Curators by Umi; Cross - Border Suburbias by Teddy Cruz; Reciprocal Developments by Arjan Harbers and Kristin Jensen; Tijuana - Vernacular by Federico Diaz de Leon Orraca; Border Models by Annemarie Strihan; Bohemian Cheapness - Interview with Jaroslav Kubera by Bernd Upmeyer; Sin City by Daan Roggeveen; On a Trip Down Memory Lane by Lukas Feireiss; Windsor: The American Sector by Justin A. Langlois; Westberlin - My Cold War Heroine by Vesta Nele Zareh

Although we never intended to be a utopian magazine, when we started out we were put into the same category as those small and short-lived radical periodicals of the '60s and '70s. As a matter of fact we were never interested in contemplating the fictional, yet perfect, socio-political urban conditions or the possibility of the ideal society, however unrealistic. To the contrary, we have always been fascinated by all the idiosyncrasies of reality, the conventional and the pragmatic as an inexhaustible source of innovation. Nevertheless, in this issue we provide some reflections on utopia. It appears to be the case that cities located close to nation-state borders in particular, may be described as isolated islands, where a different type of life seems possible, and as places conducive to experiments and utopia as Ines Lüder, Dominique Hurth, and Ciarán Walsh show in their article about the Russian enclave Kalingrad. Border cities are often privileged as they are in a position to determine their own rules. Joep van Lieshout created with his highly sinister utopian art project "SlaveCity" such an extreme case of self-rule, which he explains in an interview with us. Switching back to reality, it may be said that nation-state borders seem to have the most vigorous impact on cities when they appear in 'doubles' – i.e. one on each side of the border. Together they create a kind of symbiotic urban love and hate relationship, a living together of dissimilar organizations, which can lead to positive and negative "Reciprocal Developments" between both cities as explored by Arjan Harbers and Kristin Jensen in their case studies on Ceuta and Gibraltar. Teddy Cruz - in his article "Cross-Border Suburbias" – describes such relations between border cities as exposed landscapes of contradiction where conditions of difference and sameness collide and overlap. But the clash of different cultures and ideologies in two border cities of two different countries, which are located close to each other, can also evoke severe identity conflicts as is pointed out by Justin A. Langlois when he describes the suffering of the Canadian city Windsor under the influence of Americanization through its neighbor Detroit. The increase in such identity conflicts between border cities can even transform cities into urban ideological battlefields, where urban planning is utilized to gain political and cultural supremacy, as it is shown by Vesta Nele Zareh in her piece about the Architectural Cold War between West- and East Berlin.


10-09-07 // MONU #7 - 2ND RATE URBANISM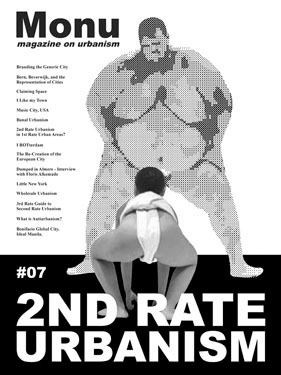 Order a copy of MONU #7 here.

(browse the entire issue #7 on YouTube)
Branding the Generic City by Alfredo Andia; Bern, Beverwijk, and the Representation of Cities by Joost Meuwissen; Claiming Space by Daan and Job Roggeveen; I like my Town by Medium; Music City, USA by Veronica Kavass; Banal Urbanism by Jamie Peck; 2nd Rate Urbanism in 1st Rate Urban Areas? by Doreen Jakob; I ROTterdam by Charles Bessard and Nanne de Ru; The Re-Creation of the European City by Beatriz Ramo/ STAR; Dumped in Almere - Interview with Floris Alkemade/OMA by Bernd Upmeyer and Beatriz Ramo; Little New York by Melisa Vargas; Wholesale Urbanism by Michael Jenson; 3rd Rate Guide to Second Rate Urbanism by Alex Schafran; What is Antiurbanism? by Michael J. Thompson; Bonifacio Global City. Ideal Manila. by Ursula Faix/ bad architects group

In an increasingly connected world the economic realities are precarious for most 2nd rate cities. In the competition for jobs and an ever expanding tax base, 2nd rate cities are in a squeeze between the suburbs where land is even cheaper and even more accessible by car on the one side, and the real attractive 1st rate urban areas that draw the highly educated and the creative on the other side. And since planning 'down' to a suburb is not an option that is considered by most cities, the fight for the survival of 2nd rate cities is to attract more urban assets. Beatriz Ramo presents one such Urban Shopping List for European second-rate cities. According to the US-based urbanist Richard Florida the latest 'must have' for a city is a creative class. In the information economy attracting those who work in the creative sectors is the key to economic success and growth. However as Jamie Peck in his article "Banal Urbanism – Cities and the Creativity Fix" argues, this strategy is just another way in which cities compete for an inherently mobile resource – the creatives can at any time pack up and move to the next happening place. Plus the causal story is far from solid, the cities investing in their hip factor as a development strategy might well be chasing a chimera. But in the process they neglect those neighborhoods and people that truly would need support. The creativity fix as the business park of the new century. Second-rate cities are much more vulnerable to adversarial politics and ideologies that promote suburbanization instead of development of successful cities. Unlike cities of global format like New York or Tokyo, they cannot create enough of an independent urban dynamic that buffers them against anti-urban politics. Michael J. Thompson traces the long history of an ideology that feeds much of these politics. Antiurbanism – an ideology that demonizes urban life. For some concrete examples of how these anti-urban politics can be directly reflected in concrete practices look at Alex Schafran's Unofficial Guide to 2nd Rate Urbanism.

This issue is supported by the Creative Industries Fund NL.


30-01-07 // MONU #6 - BEAUTIFUL URBANISM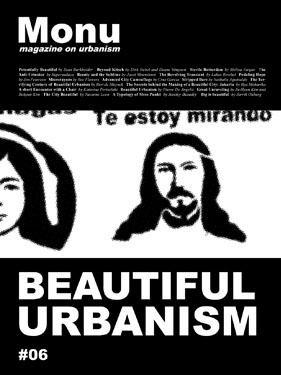 Order a copy of MONU #6 here.

(browse the entire issue #6 on YouTube)
Potentially Beautiful by Sean Burkholder; Beyond Kitsch by Dirk Hebel and Deane Simpson; Sterile Rotterdam by Melisa Vargas; The Anti-Urinator by Supersudaca; Beauty and the Sublime by Joost Meuwissen; The Revolving Transient by Lukas Reichel; Pedaling Hope by Jen Petersen; Microrayons by Bee Flowers; Advanced City Camouflage by Cruz Garcia; Stripped Bare by Nathalie Aguinaldo
The Terrifying Century of Beautiful Urbanism by Bert de Muynck; The Secrets behind the Making of a Beautiful City: Jakarta by Ilya Maharika; A short Encounter with a Chair by Katerina Pertselaki; Beautiful Urbanism by Pierre De Angelis; Great Unraveling by Ju-Hyun Kim and Bohyun Kim; The City Beautiful by Suzanne Loen; A Typology of Mess Punkt by Jeremy Beaudry; Big is Beautiful by Jarrik Ouburg

Even though the concept beauty remains elusive we think our issue is successful in shining some spotlights on the issue. One of the themes from the articles is that beauty in urbanism is what one could call an emergent quality. It rarely is in the object itself. It exists in the way we perceive spaces and objects, our vantage point. It is while wandering though the city, resolving contradictions, when we see things that jolt our imaginations that we experience beauty. It can be a small detail such as obscure dots on the sidewalk that German civil engineers place all over the city to measure which propel Jeremy Beaudry along daydreaming trajectories as he assembles the dotted pattern of Berlin. Movement plays a central part, be it by bicycle as Jen Petersen describes or in future cable cars that Lukas Reichelt invents. Or within 30 years high resolution and real time aerial photography will open yet another facade of the city to our perception – the view of the roofs as Ju-Hyun Kim and Bohyun Kim predict. But if it is not all just in our minds then there are some important tools for those who do care about who and what it is that is built and declared beautiful – or left for us to find the beauty in. How much leverage do we really have to imagine or stamp that which is beautiful – if we must resolve ourselves between a complete rejection of the sorts of beauty that seems to have many followers – Disney architecture for example – to a naïve embracing of 30m high cowboy boots? Can we go truly Beyond Kitsch as Dirk Hebel and Diane Simpson suggest? Does the striving for a generic sense of beauty bear even more serious repercussions as Ilya Maharika argues in his study of Jakarta?

This issue is supported by the Creative Industries Fund NL.


10-07-06 // MONU #5 - BRUTAL URBANISM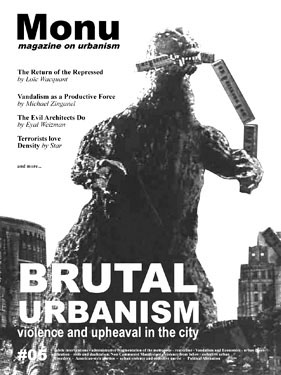 Order a copy of MONU #5 here.

(browse the entire issue #5 on YouTube)

The Return of the Repressed by Loïc Wacquant; Vandalism as a Productive Force by Michael Zinganel; The Evil Architects Do by Eyal Weizman; Preventing Brutal Urbanism - Interview with the Director of the Security Task Force for the 2006 World Cup by Bernd Upmeyer; Terrorists Love Density by STAR; The Future of June 4th by Austin Arensberg; Repulsive Desperation in the Constructions of Survival by Baruch Bruce Gottlieb; Happy Slapping - Urban Violance in the Age of Camera Phones by Peter Mörtenböck and Helge Mooshammer; 5000 Years of Brutal Urbanism by UAS; It's the Protocol, Stupid by Marc Schuilenburg; On the Run - Contesting Urban Boundaries by Lukas Feireiss; Cities of Collision by Philipp Misselwitz and Tim Rieniets; (re)Moving History by John Comazzi; As a Child of the Suburbs: - a response to How Suburbs Destroy Democracy by Alex Schafran; A Rejoinder to Alex Schafran by Michael J. Thompson

Roughness, violence, brutality, seediness, ghettoization – all these are words that we associate much more readily with the city than with a suburb or the bucolic countryside. It seems even drug related crime develops a different character depending on whether it is in the city or the suburb. As the NYTimes reported in early July, identity theft is the crime of choice for meth addicts and both are flourishing in suburban regions of the US. In contrast crack cocaine or heroin dealers, are supported by heavily armed gangs usually set up in higher density urban zones. These high density areas are suited to 'urban' crimes like, prostitution, carjacking and robbery. So the suburban habitat seems perfectly suited for the sleepless meth-addict roaming through the internet, garbage cans and outdoor mailboxes in a quest to gather identities, while the density and proximity of a city is more fertile soil for the impulsiveness and raw brutally that is typical for crack and cocaine criminality. In a similar direction one of the directors of the World Cup 2006 security in our interview echoed some thoughts that also show the relationships between spatial configuration and the art of preventing urban brutality. These are just some of the topics that this issue of Monu presents: Media representation and context of brutality is one key aspect as our contributors show. Be it the possibility to easily record and distribute via cell-phone cameras as Peter Moertenboek and Helge Mooshammer describe in their article. Or the impossibility to censor images of resistance as Austin Arensberg describes. In our leading article Loic Wacquant analyzes the intensifying of structural brutality in the city: economic, social and political exclusion and the backlashes that inevitably follow. But brutality can also be an almost integral part of the history of development, in some cities as articles about places as different as Jerusalem and Seoul by Tim Rieniets and Baruch Gottlieb respectively show.


16-01-06 // MONU #4 - DENIED URBANISM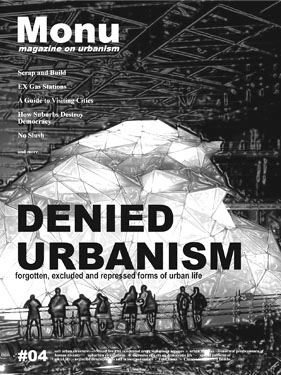 Sold out.

(browse the entire issue #4 on YouTube)

Scrap and Build by Yoshiharu Tsukamoto and Jorge Almazán; Ex Gas Stations by UAS; Shopping for Vice by Jeffrey Ludlow; The Future of Filming in Downtown Los Angeles by Sarah Lorenzen; A Guide to Visiting Cities by Boris Sieverts; The Master of Lockhart (Texas) by Hans Frei; Transforming Local Government - privately by Robert H. Nelson; How Suburbs Destroy Democracy by Michael J. Thompson; Literature of the City 101 by William Alatriste; No Simple Problem Interview by Martin Schwegmann und Thorbjörn Reuter Christiansen with Mika Hannula; Infrascapes, Urban Androgyny and other unplanned Effects of Metropolitan Dynamics by Gabriel Duarte; No Slush by Tommi Mäkynen; E 70 by Beatriz Ramo/ STAR; Reinventing Lifta by Malkit Shoshan and Eitan Bronstein; Welcome to Houston, Texas by Eric Leshinsky; The Heckpfad by Kai Dolata and Lola Meyer; Volkspalast by Amelie Deuflhard and Sophie Krempl-Klieeisen; Hidden Veneration by Kristina Blazevski; DIY by Matthijs Bouw

From Tokyo to Lockhart Texas, from suburbs and informal settlements to the biggest representational buildings in capital cities, from Helsinki to Jerusalem, this issue offers a dazzling journey around the world to forms and episodes of urban life that have one thing in common: they lead a precarious existence, in our perceptions and in recognition of what is viable 'urban' life or - more drastically - are actually threatened in their existence. It is not only le Corbusiers famous "the eyes that cannot see" or don't want to see, but sometimes also that which the eyes do not want to see (any longer). However as many of the contributions in this issue show clearly most of the time both of those symptoms of denying urbanism are happening simultaneously and are faces of the same coin. And the blindness and ignorance seems to be global and escapes narrow definitions of political ideology and even the categories of benevolent planners. Preservation of buildings and the neglect of destruction does not necessarily protect urban life – quite the opposite as Yoshiharu Tsukamoto and Jorge Almazán suggest in their article about Tokyo. More dramatically, historic preservation or reconstruction can also be a strategy to rewrite the history of a place, as if to erase the traces of another population as is happening in Lifta - Israel. Size does not matter for the concept of denied urbanism – at least looking at the contributions. A small informal settlement on the fringes of the inner city of Cologne can be subject to the same mix of willful ignorance and the desire to create a clean city just as the Palast der Republik in Berlin – the biggest representational building of the former GDR. More often than not there are many sides from which one can see the denial. On the one hand Suburbia – the denying of urban life has profound negative consequences for democracy as Michael Thompson argues. On the other hand Michael Nelson sees potential in home owner associations as a particular form of governance that is massively emerging in suburban contexts and that is widely ignored at least among the mainstream planning community.


05-07-05 // MONU #3 - POLITICAL URBANISM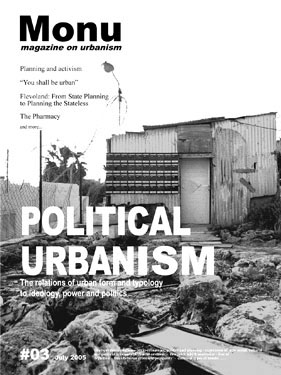 Sold out.

(browse the entire issue #3 on YouTube)

Planning and Activism by Malkit Shoshan; nEUtral by bad-architects; Rojak by Maggie Peng; Between Aerial Defense and Modernism by Lola Meyer; Model City - Interview with Margitta Faßl, the managing director of 'Wohnungsgesellschaft Hoyerswerda' by Bernd Upmeyer; You shall be Urban by Theo Deutinger; Flevoland: From State Planning to Planning the Stateless by CASE; The Pharmacy by Joost Meuwissen; Turning the Corner by Fabian Faltin; Supersuburbia by UAS

Exploring the relationship between power, politics and cities, urban territories is like looking at the chicken and egg question. What grows out of what? In Hoyerswerda, a middle sized east-German city where we spoke to Margitta Fassl, the Managing Director of the largest housing authority (that manages about 60x% of the cities housing units), the situation seems clear. The city over the last 50 years has been a ball on the waves of larger economic and political developments. From a small town of about 7,000 people, Hoyerswerda was built up into a model city the socialist era with about 70,000 people, now to its status is being a model amongst the shrinking cities in Eastern Germany that wither in the new market economics. Like clockwork is house after house demolished. There remain approximately 40,000 residents and the city is expected to lose at least another 10,0000 in the coming years. Hoyerswerda came to tragic fame in the early 90's when a racist, xenophobic mob and dozens of neo-nazis repeatedly attacked immigrants and engaged in violent street fights with the police. Ultimately the discussion about the relation between urban form and urban development, to politics and power, has a large impact on the self-understanding of the professions that deal with these topics. Are we as architects, planners, social scientists etc. mere 'hostages', as Rem Koolhaas expressed it at one point, of larger economic and political contexts, or can planning, research and building actually be activism, a contribution to a struggle to change things? Malkit Shoshan in her truly extraordinary project in a village in Israel in a way answers this question. Her account of the project in "Planning and Activism" shows how research in urban planning combined with an effort to engage stakeholders and powerbrokers can actually be a powerful political act.


20-01-05 // MONU #2 - MIDDLE CLASS URBANISM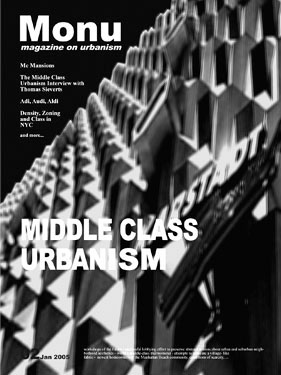 Sold out.

(browse the entire issue #2 on YouTube)

Dispersion by Johannes Fiedler; Density, Zoning, and Class in New York City by Beth Lieberman; Mc Mansions by William Alatriste; Urbanism for the Middle Class in historic City Centers by Fernando Vegas and Camilla Mileto; Middle Class Urbanism Interview - with Thomas Sieverts by Bernd Upmeyer ; IKEA: When Cathedrals were blue by Manuel Shvartzberg; Neu Karow: a new space between berlin's past and its border by Katherine Bourke and Gregor Harbusch; Landscape Urbanism by Detlev Ipsen and Holger Weichler; Circuitous by Leah Beeferman; Adi, Audi, Aldi by Theo Deutinger; Middle Class Emulations by Angie Waller; The New Middle Class by Robert Winkel; Middle Class Desires by UAS

For the last few decades the middle class has been the driving force behind urban innovation. More than any other, this urban group has both the financial resources and the sheer power of numbers to effectively transform desire into urban reality. Many of the most obvious components of our cities - Row houses, apartment buildings and sports facilities, to name but a few - are in large measure a function of the existence of a broad middle class. The middle class symbolizes modest urban values, values that seem hopelessly anti-utopian and run counter to the megalomaniac concepts of cities proposed by great architects like LeCorbusier or Hilbersheimer. But in reality the middle class is comprised of some of the boldest urban utopists ever, individuals who have been realizing their utopias for decades. Much less dogmatic and more successful than any imagined utopia, with their power, influence and sheer numbers the middle class has shaped the urban landscapes we inhabit today. And although the term middle class is very blurry it might be exactly the contradictory relation of middle class to cities that could lead to a definition of what is the middle-class. As Johannes Fiedler argues in his text "Dispersion", in the absence of scarcity of some sort (e.g. economic, security) or top-down regulations, the default choice for living seem to be dispersed, low density environments. Or as Thomas Sieverts in our interview put it: "people seek the fringes". It is almost a pioneer-like quality that parts of the middle class exhibit – the constant search for the new fringe, the new land. The relatively new phenomenon of exurbs is the US expression of that impulse. Places that are ever further removed from the population centers almost completely disconnected from any form of civic life. In Europe or Germany this strategy is not an option due to lack of available open space. Instead in Berlin, as documented in the article by Katherine Bourke and Gregor Harbusch, spaces in between old and new cities are the new frontier – the new fringe that the middle-class colonizes.


16-06-04 // MONU #1 - PAID URBANISM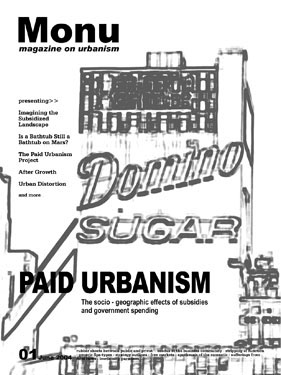 Order a copy of MONU #1 here.

(browse the entire issue #1 on YouTube)

Imagining the Subsidized Landscape by CUP; After Growth by CASE with Reinier de Graaf; Urban Distortion by Shireen A. Barday and Damon W. Root; Urban Money Beats Global Money by Hans-Henning von Winning; The Paid Urbanism Project by Thomas Soehl and Bernd Upmeyer; SpaMania by Kai Jonas; Is a Bathtub Still a Bathtub on Mars? by William Alatriste; Richard J. Daley's Chicago Civic Center and the Modernist Urban Landscape by Emily Pugh

Our experience of urban life today exists as it does because we have a complex system of subsidies interacting with our urban geography. Taxes, once extracted from the market economy cycle back to the masses as paid urbanism. Used wisely or not, spread fairly or unfairly, this money is probably one of the strongest forces animating our urban conditions today. The places we live in today are in many ways shaped by government spending - Subsidized Landscapes. Since the '90s, big enthusiasm about total privatization has subsided. Nowadays, everybody realizes that there is a need to keep certain things in the hand of public administration. Redistribution of enormous revenue is a commonly accepted means of keeping civil democratic societies working. Government intervention, taxing and spending are the terms we use to describe this state. Caught in an enormous network of redistribution that pervades everything and everybody, the power and influence of these processes rarely makes itself visible; we are never fully aware. A Kafkaesque web of bureaucracies constantly recreates and resuscitates our urban landscapes. Drifting through cities with their thousands of invisible dependencies and relationships, no one person can exactly define what keeps everything alive. Everything seems to be vibrant, but somewhere down the line, there are crosscutting streams and flows of decisions and administration behind it. It has been paid for. The multitudinous products of paid urbanism are hard to identify or define, but lie hidden behind every stone of the city. The effects of paid urbanism on urban settings cannot be overemphasized - without paid urbanism, cities as we know them would not exist. This first issue shines a number of spotlights into the thicket of subsidies and paid urbanism. What do networks of subsidies look like in fields like housing and farming in the US and what are their consequences for cities? What are the aesthetic impacts and absurdities of paid urbanism in places as different as Chicago, Coney Island (NYC) and Thuringen (eastern Germany). We feature projects that rethink the networks of paid urbanism and essays that reflect on the interwoven history of subventions and urbanism.